This weeks club notes includes details of our club fundraiser, teams fixtures and much much more, click on the link below to read more…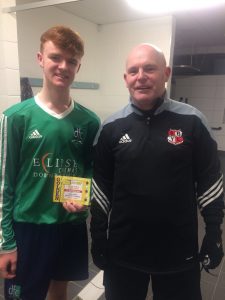 Club Notes – Week Beginning 27/11/17
On Saturday the November 100 Club Draw was held in Murphy's Bar and Restaurant, the winners were 1st Prize – £250.00 No. 27 Stephen Sloan, 2nd Prize – £150.00 No. 48 Janine McGrady & 3rd Prize – £100.00 No. 4 Kevin Sloan. We would like to thank all those who continue to support this fundraiser. There is also currently a small selection of numbers still available, if anyone is interested please feel free to contact Mark Murphy 07738 637702 or Tony McShane 07716 853990.
Due to an oversight by the IFA the 'IFA Grassroots Introductory Coaching Award' Course on Sunday 3rd December in the Ballymote Sports Centre has been CANCELLED and will be rescheduled for early in the 2018. This award caters for those who want to coach at foundation level and helps to form the coaching practice for those who want to progress up the coaching ladder. The award is also ideal for parents who want to learn what we are trying to do at the club and maybe help volunteer in the future. For more information contact our Youth Development Officer Paul Moore 07549 661772.
The first team play Derriaghy on Saturday afternoon in the league, this match kicks off at 2.00pm, at the time of writing the venue for this game is still to be decided.
The seconds have a free week this Saturday but all players are encouraged to train on Tuesday and Thursday.
The under 18's are in last sixteen of the Harry Cavan Cup this Saturday when they welcome Ardstraw to the Bridge Centre in Killyleagh, this match kicks off at 1.30pm. Downpatrick played Ards Rangers on Friday night, they conceded 2 early goals before they even got going in the game. As the game went on Downpatrick got more of a foot hold in the game, with James Peacock being their main threat down the left wing. Just before halftime Downpatrick got a goal back when Joe Healy got on the end of a cross from Peacock. As Downpatrick chased the game in the second half they conceded another two goals. Downpatrick's man of the match last Saturday was Caolain Logue who receives a 'Golden Ticket' from sponsors Downpatrick Subway
The under 16's play TW Braga on Saturday morning in Ballymacoss, this match has a 9.30am kick off. Downpatrick's man of the match last Saturday was Ethan Artt who receives a 'Golden Ticket' from sponsors Downpatrick Subway.
The under 14's play Annalong Rovers on Saturday morning at 9.30am, this match is at Havelock Park in Banbridge.
The under 13's played Castlewellan last Sunday morning, the players approached this game with some trepidation after the previous encounter but credit to them they showed how much they have improved, they may still have lost but they had the opportunities to get something out of the game, the match ended 5 – 2 to Castlewellan with Downpatrick's goals coming from Philip McCullough and Connall Hanna, Ruairi Gilchrist saved a penalty during the game and Sean Murphy in sweeper and Ben Cromie in midfield had fine games.
The 2006's 9-a-side return to action this Saturday but at the time of writing the fixture isn't available.
The 2007's 9-a-side team also return to action on Saturday when they play.
The small sided games development centre is up in the Red High on a Sunday Morning, this is for our under 8's and under 10's. The coaches will be in touch about who is playing and at what hour.
Training for mini soccer has moved up to the 3G Pitch at the Red High, the training times for the different age groups are as follows: 2010, 2009 & 2008 are training from 6.00pm – 7.00pm and those born in 2006 & 2007 are training from 7.00pm – 8.00pm, they need to wear shin guards and football boots, bring a bottle of water and dress according to the weather conditions. Parents are asked to complete the registration forms as soon as possible and return them to Paul Moore or Tony McShane.
Training for children born in 2013, 2012 and 2011 continues on Monday nights in the Red High from 6.00pm – 7.00pm. The children born in 2011 will be outside this year and those born in 2012 & 2013 will be indoors. Any questions please contact our Youth Development Officer Paul Moore on 07549 661772.