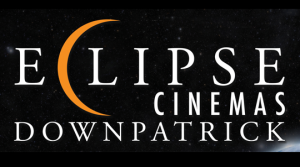 Eclipse Cinemas Downpatrick is owned by the Barrett family from Omagh. There are three cinemas in the Eclipse chain – Bundoran, Lifford/Strabane and Downpatrick, with a total of 19 Screens.
It was the ambition of the founders to bring City Style cinemas to smaller towns, with the extra attractions of a warm welcome and high quality customer service one associates with a family-run business. The Downpatrick Eclipse is run by a team of cinema enthusiasts, recruited locally and led by a young university graduate, Roisin Mc Manus.
The Eclipse Cinemas brand was created by a Primary School pupil for a "Name your local Cinema" competition. The winning concept was, "When you go into a studio it is bright, then the lights go down and the film starts.  At the end the lights go up again, just like during an Eclipse". The cinema carpets incorporate the "Eclipse" design which cinema goers find very attractive.
Eclipse Cinemas Downpatrick has won two awards recently. In 2011 it was the first cinema in Ireland to win the Trailblazer award for good practice in catering for people with disabilities and in 2012 it won the highly prestigious 'Investors in People' award.
Features of Eclipse Cinemas Downpatrick:
An impressive foyer
Capacity of over 1000 seats
Substantial Free car parking
Luxurious American Rocker seating
3d
Homemade Popcorn
Free Electronic Loyalty Card
Contact Details:
5 Owenbeg Avenue, Downpatrick, Co. Down, N. Ireland, BT30 6FJ
Telephone: 028 44 616777
E-Mail: downpatrickinfo@eclipsecinemas.com :: Website: www.eclipsecinemas.co.uk