Downpatrick seconds fail to take any points of the current league leaders in a below par performance, click on the link to read more…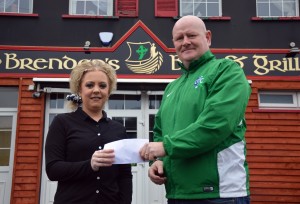 Saturday 9th April – NADAFL Premier Division
Newcastle Swifts 5 v Downpatrick Athletic 2
Downpatrick travelled to the league leaders in search of three points but an inept performance meant the came away from the seaside town without any points. Newcastle was quickly into their stride and opened the scoring inside fifteen minutes.
Downpatrick equalised midway through the half, Conor McCarron who had a cracking game for the visitors crossed the ball into the box. Downpatrick's Conaill Kerr challenged the keeper and the ball looped up into the air and striker Paddy Kerr reacted quickest to head the ball home before the Newcastle left back could clear it. This was as good as it got for Downpatrick, Newcastle scored two quick fire goals to go in at half time leading by three goals to one.
Half Time: Newcastle Swifts 3 v Downpatrick Athletic 1
Downpatrick came out in the second half with the bit between their teeth and enjoyed a fifteen minute spell after the break, they were on top in terms of possession and pressure. It wasn't long before Downpatrick reduced the deficit, midfielder Declan Curran took the ball down the left wing before cutting back and crossing the ball into the box. The ball evaded everyone including the Newcastle keeper and ended up in the back of the net.
The equaliser didn't come for Downpatrick as Newcastle stepped up a gear and with the aid of some poor defending they scored two more goals before the end to secure all three points. A disappointing day for Downpatrick with very few players performing with the exception of McCarron and winger Shane Matheson who put in a tremendous performance both as an attacking threat and in defending when required.
Downpatrick: 1) F Starkey 2) R Fitzpatrick 3) C McDowell 4) C Magee 5) M Carson 6) P Kerr 7) S Matheson 8) D Curran 9) S McMahon 10) C McCarron 11) C Kerr 12) S Sloan 14) C Curran 15) C Curran
Match Sponsors: Brendan's Bar, Downpatrick