Downpatrick under 14's secured their first win in the Lisburn League with a comprehensive victory over Lisburn Distillery, click on the link below to find out who scored all the goals…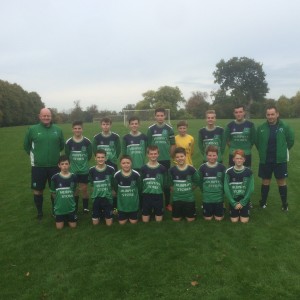 Saturday 10th October – Lisburn Invitational League under 14's
Downpatrick FC 6 v Lisburn Distillery 1
With the very early start and the journey to Moira, Downpatrick began slowly and they were on the back foot from the first whistle. They were second to the ball and in every challenge.  Changes to the team meant Andrew McGrattan played in nets, but, he was unable to prevent Distillery taking a very early lead.
The standard of play was poor for all to see. Yet, on fifteen minutes some good link up play allowed the midfield to get hold of the ball.  It reached Oran Bolton who passed to Damien McDowell and he scored from within the box with a low shot.
Downpatrick began to believe, they starting playing with purpose. The game changed for the better, Downpatrick got on the ball and started moving it quickly. Jack Fitzsimons found Bolton, who ran through the defence and scored with a long range strike.
Downpatrick were now a team were on the front foot and the Distillery keeper was working overtime.  One attack led to a corner, Fitzsimons put in a lovely delivery and Tom Savage met it with his head and scored. The team were full of confidence now and only some wayward passing and shooting kept the score line close.
Half Time: Downpatrick FC 3 v Lisburn Distillery 1
A good chat at half-time allowed the managers and players to regroup. A couple of changes to personnel throughout the game allowed all players to plenty of game time. However, the boys just didn't take on board what was said, again, they fell into old bad habits and the football faltered. Downpatrick made more changes to personnel; this allowed the managers to chat with the players and reinforce the need for good football.
Distillery was getting some chances due to indecisive play along the back line.  McGrattan was very commanding and made some good saves and catches which allowed for a quick transition in forward play for us. Downpatrick were guilty of trying to force the play and kicking the ball long, this allowed Distillery to mop up play and attack us.
Again, the midfield got on top of the play, Fitzsimons was a catalyst in the play; Conor Rogan was working well alongside him.  On another attack, Sean Og Burns found Bolton who ran thirty-five yards through four players and scored with a low shot.
Kennedy, Og Burns, Maguire and Gardiner were working well and their tenacious tackling allowed the team to create more chances, but, the forward were guilty of running offside.  Ethan Artt was running the left channel well and was unlucky not to score; his shot rebounded of the post. Another chance was created by Fitzsimons, he found Bolton who scored again after another run.
Ethan Breen, Liam Toner and Colin Jones were playing good football up front and created numerous chances, but, were either blown offside or put their shots wide of the target. On one such attack rapid play allowed Toner to receive a pass and he ran along the right channel, he put in a cross for Jones to run onto and he scored from eight yards out. The football was a joy to watch at times when Downpatrick kept it simple, but, there areas we must improve on and quickly.
Good result for all concerned.  It was hard to choose a man-of-match as there were a number of candidates, in Fitzsimons, Gardiner. Rogan, Artt and Breen all showed well in the second half.
The team must understand what is expected as a unit and they need to improve quickly to allow progression and development amongst themselves and the team.