The under 16's bowed out of the Shield in the first round at the hands of a strong TTBS team, click on the link to find out how…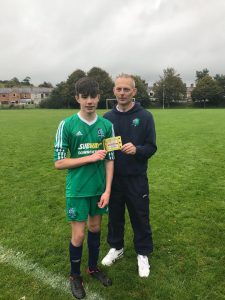 Saturday 7th October – LYFL under 16's
Downpatrick FC 1 v TTBS 4
After a competitive and deserved draw against top of the table T.W Braga last Saturday, the Downpatrick lads were faced with a trip to meet TTBS in the Shield, a team who were already known to the boys as a skilled and disciplined side. Connor Rogan once again took the helm as goal keeper and his defensive line of Brian Kennedy, Conail Gardiner, Liam Toner, Matthew Murray and Peter Kearney were going to have to put up a wall against the TTBS attacking front line which was incessant for the first 20 minutes.
Rogan made a number of athletic saves and Murray was standing out for his decisive tackles and clearances. The following period was tit for tat and Downpatrick had few scoring opportunities. Mid-fielder Ethan Breen shot on 30 minutes but it was easily scooped up and equally, Luke Shields battling down the left wing managed a shot on target which was pushed wide. The deadlock was broken on 33 minutes when TTBS attacked and made it 1-0 after measured play. Shortly after, defender Matthew Murray, who was covering serious distance, made a run down the wing and shot on 34 minutes, for it only to veer to the left of goal.
Half Time: Downpatrick FC 0 v TTBS 1
Downpatrick tried everything in the 2nd half despite the best efforts of the boys, TTBS made it 2 immediately after the re-start that led from indecision in passing play. Changes in personnel, Midfielders Breen and Jack Fitzsimmons dropped to deeper positions to try and counter the onslaught with Luke Shields, Colin Jones and Andrew McClean trying to encourage the breaking ball. Substitutions came and Matthew Killen, Luke O'Rourke and Ethan Artt brought fresh legs but it just wasn't to be their day. Goals from TTBS followed on 56minutes and 63 minutes to make it 4. Shields brought back on, managed to give Downpatrick a conciliation goal and it finished 4-1 to TTBS.
The boys gave their all but an extremely disciplined TTBS side could have punished the Downpatrick lads further. Hard physical work by the backline and decisive goal-keeping was the lesson of the day and the boys all took away these lessons for further training ground work.