A disappointing performance saw Downpatrick bow out of this years Irish Cup, click on the link below to read more…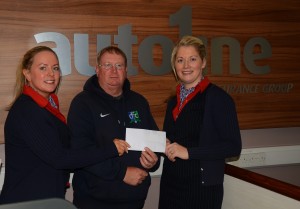 Saturday 3rd October – Irish Cup 2nd Round
St Mary's YC 3 v Downpatrick FC 1
Downpatrick's run in this year's Irish Cup was very brief, having received a bye in the first round they travelled to Portadown to play St Mary's YC from the Mid Ulster League in the second round and there ended this seasons Irish Cup campaign. After last week's emphatic victory the Downpatrick players were brought back down to earth with a bang.
On 10 minutes Downpatrick gave the ball give away
in defence and the home side's striker saw Michael McKenna of his line and scored with a sweet finish to put his side in front. The next ten or fifteen minutes was nip and tuck between both teams, Downpatrick did create a few chances but Eoin Boyle, Stephen Galbraith and Aaron McGarry failed to trouble the keeper.
With the game approaching half time St Mary's forced a corner, Mark Holland cleared a dangerous delivery out for another corner. The resulting corner was swung in and the entire visiting team failed to react and watched as the St Mary's defender tap the ball into the goal.
Half Time: St Mary's YC 2 v Downpatrick FC 0
The second half saw Downpatrick come out with a bit more purpose and they started the better with St Mary's chasing shadows at times, but still looking dangerous any chance they got to counter attack. The first real chance of the second half saw Galbraith hit the underside of the crossbar, he pleaded with the referee the ball had crossed the line but as the ref was unsure he refused to give it.
Downpatrick were creating more chances, in form Aaron McGarry hit the post, Terrence Bell first class header hit the crossbar, the rebound fell to Andy Baggley but his effort was saved and the third attempt from McGarry was blocked by a diving St Mary's defender. Downpatrick thought they could have had two penalties but the referee wasn't interested.
On the hour mark a rare Aaron McGarry misplaced pass summed up Downpatrick's day, as he passed straight to the St Mary's striker who slotted
home to make it 3-0. The visitors tried to rally and with fifteen minutes left Holland set up Galbraith for a neat finish but they couldn't find another way past the St Mary's keeper.
Downpatrick: 1) M McKenna 2) B Fitzsimons 3) B Connolly 4) M Holland 5) N Walsh 6) A McGarry 7) B Treacy 8) A Baggley 9) S Galbraith 10) E Boyle 11) C Holland 12) T Bell 14) G Collins 15) R Fitzpatrick
Match Sponsor: Autoline Insurance Group
, Downpatrick