An Ethan Artt free kick in the dying minutes secures a point for the under 16's, click on the link below to read more…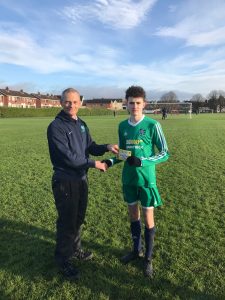 Saturday 25th November – LYFL under 16's
Downpatrick FC 2 v Lisburn Rangers 2
Lisburn got off to the perfect start on a cold freezing morning when they went ahead through a penalty after one minute due to indiscipline in Downpatrick back line. The rest of half both teams attack each other continuously but neither team could find that killer touch to score.
Half Time: Downpatrick FC 0 v Lisburn Rangers 1
A change in formation at start of second half gave Downpatrick a fresh impetus and they got their reward when Luke Shields converted a penalty on 42 minutes. Downpatrick went to sleep straight after and allowed Rangers to score immediately from the restart. Five minutes later Lisburn Rangers were awarded a second penalty but their striker sent it wide.
Downpatrick were reinvigorated and it was evident Downpatrick were not going to throw this away. A series of set plays by Ethan Artt exposed Rangers defensive errors and it was only a matter of time. A couple of minutes before the final whistle, Artt stepped up for a free kick outside the box at 30 yards. He duly arced it in to give the boys a deserved draw on a freezing morning.