This weeks club notes details of the fixtures for the week for all our teams, click on the link to read more…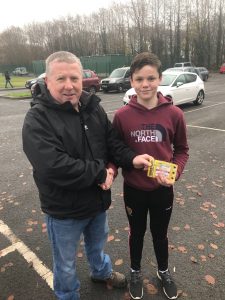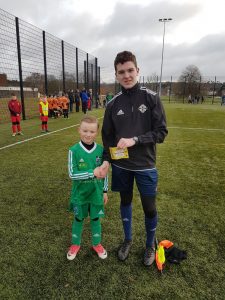 Club Notes – Week Beginning 04/12/17
The first team play Derriaghy on Saturday afternoon in the league, this match kicks off at 2.00pm, at the time of writing the venue for this game is still to be decided.
The seconds welcome Newcastle Swifts to Dunleath this Saturday afternoon for a 2.00pm kick off.
The under 16's play Loughgall on Saturday morning in Wallace Park, this match has a 9.30am kick off. Downpatrick's man of the match last Saturday was Luke Shields who receives a 'Golden Ticket' from sponsors Downpatrick Subway.
The under 14's play Lisburn Distillery on Saturday morning at 9.30am, this match is at Fullerton Park. Last Saturday saw the 14's race into a 6 – 2 lead before Annalong Rovers pulled the score back to 6 – 5. Downpatrick's goals were scored by Finn Trainor, Ruairi Cunliffe, Ben McKibben, Donal Milligan, Lewis Green and Nathan McAlister.
The under 13's played Celtic Bhoys on Sunday morning, for the second week in a row they showed how much they have improved in recent weeks, in the opening ten minutes Celtic Bhoys were two nil up but fought back to draw level with goals from Corey Kempster and Padraig Mason. Shortly after they fell behind again before Sean Mageean equalised again, in the second half Celtic got the all-important fourth goal to seal the points. TJ Hill and Sean Murphy had good games for Downpatrick.
The 2006's 9-a-side returned to action on a cold Saturday morning with games against Rossglass County and Strangford. This group of players continued to show development under the guidance of Peter McKenna and Owen Patterson with all the players getting plenty of game time and showing signs of improvement each week.
The 2007's 9-a-side team also return to action on Saturday when they play. The u11's played last Saturday against Lisburn Youth and enjoyed a scoring spree with both Shea Holland and Ethan Lynott bagging a brace each and Ben Shaw scoring also. As the group experience a different environment in the Lisburn League they continue to grow and learn and play some neat football. Downpatrick's man of the match last Saturday was Ben Shaw who receives a 'Golden Ticket' from sponsors Downpatrick Subway. This Saturday they play Windmill Juniors at 9.00am.
The small sided games development centre is up in the Red High on a Sunday Morning, this is for our under 8's and under 10's. The coaches will be in touch about who is playing and at what hour.
Training for mini soccer has moved up to the 3G Pitch at the Red High, the training times for the different age groups are as follows: 2010, 2009 & 2008 are training from 6.00pm – 7.00pm and those born in 2006 & 2007 are training from 7.00pm – 8.00pm, they need to wear shin guards and football boots, bring a bottle of water and dress according to the weather conditions. Parents are asked to complete the registration forms as soon as possible and return them to Paul Moore or Tony McShane.
Training for children born in 2013, 2012 and 2011 continues on Monday nights in the Red High from 6.00pm – 7.00pm. The children born in 2011 will be outside this year and those born in 2012 & 2013 will be indoors. Any questions please contact our Youth Development Officer Paul Moore on 07549 661772.