This weeks club notes includes details of this weeks fixtures, training times and information on our last fundraiser, click on the link below to read more…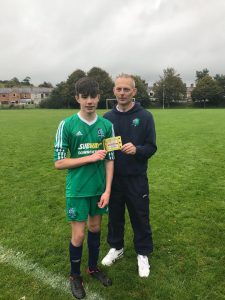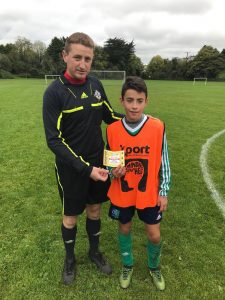 Club Notes – Week Beginning 09/10/17
Downpatrick held their Golf Day on Friday 6that St Patrick's Golf Club, the format was a shot gun start with everyone starting at a different tee box at the same time. The winner of the GUI 1st Prize was Kevin Trueman on 38 points, 2nd Prize was won by Barry Fitzsimons on 35 points. The winner of the Non-GUI Prize was won by Shaky Love who had 43 points. The two closest to the pin prizes on the 8th & 18th were won by Sean McMahon and Shaky Love. We would like to thank all those that took part, we would also like to thank those who kindly sponsored a tee box: Murphy's Bar & Restaurant, Carousel Bingo, Eclipse Cinemas, Subway Downpatrick, McDonalds, HomecAir Vacuum & Ventilation, M&M Steel Newry, Resolve Marine Group, Thomas Leckey Photography, Matts Gardening Service, Milligan Family, Connolly's Foodstore, JR's of Castlewellan, Murphy's Stores and Lignum Interiors.
The first team are in league action this week, we play XXXX for a 2.00pm kick off on Saturday.
Membership for ALL players is now overdue and needs to be paid ASAP, managers will have circulated the link by which this needs to be paid. For any advice on completing this please contact Tony McShane 07716853990.
If anyone is interested in sponsoring a match for one of our senior teams please contact Tony McShane on 07716 853990 for further information.
The seconds welcome Castlewellan Forest to Dunleath on Saturday afternoon, this match kicks off at 1.30pm in the last 16 of the Bobby Dalzell Cup.
The under 18's are in league action in the South Belfast League this Friday evening, the play St Mary's and the match kicks off at 8.10pm. Pictured is Declan Burns receiving his 'Man of the Match' Golden Ticket sponsored by Subway Downpatrick after Saturday's match.
The under 16's play Dromore on Saturday morning in the league. This match kicks off at 11.15am and is at Dromore. Downpatrick's man of the match last Saturday was Matthew Murray who receives a 'Golden Ticket' from sponsors Downpatrick Subway.
The under 14's play in the first round of their shield on Saturday morning, they play Windmill Stars in Havelock Park, Banbridge at 9.30am. Pictured is Matthew Robinson receiving his Man of the Match award from referee Michael McKenna after his performance in last Saturday's NIBFA cup victory against Cookstown Youth Colts.
The under 13's play Ballynahinch Olympic on Sunday 15th October in Dunleath, kick off is at 11.40am.
Also, a huge well done to our youth player Adam Shannon who was representing Downpatrick Karate at the WIKF World Championships in Curacao, Adam achieved a brilliant Gold medal in Kumite and a Bronze medal in Kata.
The 2006's 9-a-side team are in the development league this Saturday morning with matches against Ballynagross and Celtic Bhoys in Dunleath. The first match kicks off at 9.30am and the second match at 10.30am.
The 2007's 9-a-side team play
The small sided games development centre has recommenced up in the Red High on a Sunday Morning, this is for our under 8's and under 10's. The coaches will be in touch about who is playing and at what hour.
Training for mini soccer has moved up to the 3G Pitch at the Red High, the training times for the different age groups are as follows: 2010, 2009 & 2008 are training from 6.00pm – 7.00pm and those born in 2006 & 2007 are training from 7.00pm – 8.00pm, they need to wear shin guards and football boots, bring a bottle of water and dress according to the weather conditions. Parents are asked to complete the registration forms as soon as possible and return them to Paul Moore or Tony McShane.
Training for children born in 2012 and 2011 will begin on Monday 9thOctober in the Red High from 6.00pm – 7.00pm. The children born in 2011 will be outside this year and those born in 2012 will be indoors. Any questions please contact our Youth Development Officer Paul Moore on 07549 661772.