This weeks club notes include information on the upcoming AGM, Ladies matches, trials for the u19's, click on the link below to read more…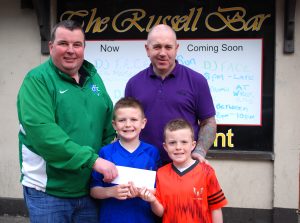 Club Notes – Week Beginning 13/06/16
Downpatrick FC will be holding their AGM on Monday 27th June at 7.00pm in Murphy's Bar, everyone is welcome to attend.
The ladies team have two important matches this week which are sponsored by the Russell Bar, Downpatrick. First up for the ladies is a home fixture in the second round of the IFA Challenge Cup against Killen Rangers in Dunleath, kick off is at 7.30pm. Then on Wednesday night the ladies make the small trip to the Billy Neill Playing Fields in Dundonald to play Comber Ladies in the league, this match also kicks off at 7.30pm.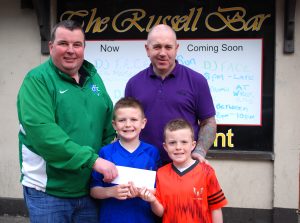 Last week the ladies played Comber Ladies in the League Cup, in a highly entertaining game Downpatrick ran out 6 – 1 winners with the goals coming from Kyla Traynor who scored 4, Lisa Kempster and Aisling Flynn.
On Saturday 18th June Downpatrick u19's are holding OPEN trials for the upcoming season in the Lisburn League. These trials are for people aged between 01/01/1998 and 31/12/1999, they will be in St Dillon's Avenue pitch at 10.00am. All players are asked to bring a water bottle. For more information please contact Paul Moore on 07549 661772.
Downpatrick FC is holding a coaches/volunteers meeting on Monday 20th June at 7.00pm in Murphy's Bar. We are inviting any new coaches/volunteers to attend, you can help out by managing or coaching a team, by co-ordinating the Social Media or our club Website. We are dedicated to putting our coaches/volunteers through Coach Education Courses, any equipment or gear will be provided by the football club. If your interested in coaching and/or volunteering you are more than welcome to attend this meeting or if you can't make the meeting or want more information please contact Tony McShane 07716 853990.
Downpatrick's Annual Golf Day is on Friday 22nd July at St Patrick's Golf Day, tee of times are available from Mark Murphy 07738 637702 or at The Golf Hut. More details to follow.