Roisin McManus from Eclipse Cinema, Downpatrick presents Paul Moore Youth Development Officer for the club with kits bags for the children in the Youth Section, Click on the link below to read this weeks Club Notes…
Downpatrick FC Club Notes – Week Beginning 20/04/15
Although they tasted defeat at the weekend, the first team secured promotion back to the Premier Division of the Amateur League due to other results. Congratulations to Joe McMahon, Kevin Trueman, Mick McCreesh and all the players on their achievement. This Saturday sees' them travel to Monkstown to play UUJ, kick off is 2.00pm. Then on Tuesday they travel to platy Crumlin United who are pushing to finish in second place, kick off for this game is 6.45pm.
Last week we promoted our end of season presentation, the date advertised was incorrect. The Men's presentation will infact be on Saturday 9th May, all players are asked to let their managers know if they will be attending and how many tickets they require. If anyone else is interested in attending please contact Tony McShane on 07716853990.
The seconds didn't have a fixture at the weekend, they played Newcastle 2nds last night in a battle to finish second. They have only two fixtures remaining, they travel to Kirkistown on Thursday 30th April and then home to Drumaness on Saturday 2nd May.
The ladies league campaign begins on Wednesday night when they welcome Comber Ladies to DunleathPark, kick off is 7.00pm. Good luck to everyone involved for the coming season.
Roisin McManus, manager of the Eclipse Cinemas, Downpatrick presents Paul Moore Downpatrick FC Youth Development Officer with kits bags for the players, also included is players from some of the different age groups.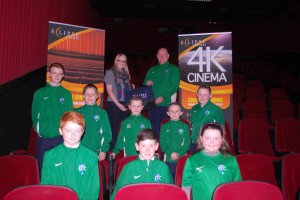 In the Lisburn League both the under 14's and 16's have an opportunity to secure their league titles with four games remaining each. The scenario requires both teams to win all their remaining fixtures. Tonight both teams are in action, the under 14's play Hillsborough Boys and the under 16's play league leaders Lisburn Distillery, both games kick off at 6.30pm and are at Barbour Playing Fields. On Saturday both teams also have fixtures, the under 14's play Portadown Youth at Ballymacoss, kick off is 11.15am. The under 16's play Ridgeway on Saturday at Ballymacoss, kick of is 11.15am then on Monday 27th April they play North End at the Barbour Playing Fields with a 6.30pm kick off.
Both the under 13's and 11's have a free weekend due to the Shield Finals taking place in Dunleath on Saturday morning. Coaches will be in contact about training and match details.
The Mini Soccer continues to on a Sunday morning from 9.30am – 10.30am for under 10's and 10.30am – 11.30am for under 8's. This section of the club continues to grow, last Sunday saw us field four teams at both age groups for the first time.