Club Notes – Week Beginning 20/07/15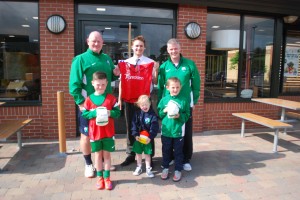 The Soccer Funweek begins on Monday 27th July in Dunleath Playing Fields from 6.30pm – 8.30pm and will be sponsored by McDonalds Restaurant Downpatrick. The funweek is for boys and girls aged from 4 years old to 14 years old, the week costs £10.00 per child and if any family has more than one child attending it costs £15.00 for the second child and £20.00 for the third child. If you would like to know any more information please contact Paul Moore on 07549 661772 or Tony McShane on 07716 853990.
With the season quickly approaching we are looking to recruit some volunteers to help out at the club, we are looking people to help assist our current coaches with training or administration work. If you are interested in helping please contact Paul Moore (see number above).