Club Notes – Week Beginning 21/09/15
The club are seeking volunteers to help with our ever growing Youth Section, we know time is precious so if you can only commit to 1 hour a week we can work with that. The club needs volunteers to help produce press releases, write match reports, looking after our club website & social media sites, taking registrations and fees, organising fundraisers or Social Events, Coach the kids or help with our Qualified Coaches to take a session. If your interested in helping out please feel free to contact Tony McShane 07716 853990 or Paul Moore 07549 661772.
The first team travel to play Islandmagee in the league, this match kick's off at 2.00pm. The club would like to thank Kim On In, Downpatrick for sponsoring last Saturday's match. If any business is interested in sponsoring a match please contact Tony McShane 07716 853990.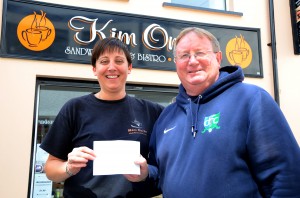 The seconds welcome Newcastle Swifts to Dunleath this Saturday in the league, kick off is 2.00pm.
All senior members' membership is now due, please ensure you give it to your manager ASAP.
Downpatrick has teamed up with KLAS Management to bring an Exercise and Weight Management Programme to the town. This ten week programme will be delivered by fully qualified coaches and focuses on how we look after our health through two distinct areas – Exercise and Education. We will be holding an information session in the Lecture Theatre of the De La Salle High School, Downpatrick from 6.30pm – 7.30pm on Monday 5th October. The programme caters for all types of abilities, ages and people with a disability, it encourages and motivates you to change your habits on a manageable basis to help improve your overall health. Please keep an eye on these club notes, our website (www.downpatrickfc.co.uk) and our Social Media sites for further updates.
The under 14's are in league action this Saturday in the Lisburn League, they play TTBS in FullertonPark, kick off is 11.30am. The under 15's play Ballyclare Colts this Saturday at Wallace Park, kick off is at 9.30am.
The under 13's unfortunately lost to Celtic Bhoys last Sunday, Downpatrick's goals were scored by Adam McCabe and Luke Shields. This Sunday they play Castlewellan in Dunleath at 10.30am.
Training on a Monday night for our mini section continues on Monday night from 6pm to 7pm in the Red High, this training is aimed for 4 year olds to 10 year olds. All old and new players are welcome, if you would like more information please contact Paul Moore on 07549 661772.
Over the coming weeks we will be holding parents meetings for our different age groups, it's vital that all parents attend one of theses sessions. It provides the club with the opportunity to lay out our plans for the rest of the season. Managers will be providing details of the sessions in due course.