Click on the link below to read this weeks club notes which include two special donations to Knockevin Special School, information on our up coming fitness programme and the next set of fixtures…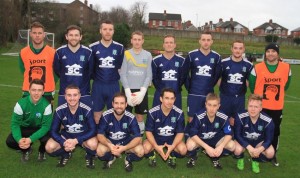 Club Notes – Week Beginning 21/12/15
Downpatrick FC along with Jimmy McKinney and his family and friends presented Knockevin Special School with a cheque from their annual golf day held back in the summer. Jimmy's daughter Hallie attends the school, he and his family & friends along with the Downpatrick football club wanted to do something for the school to show his appreciation for all the great work they do for his daughter and all the other pupils.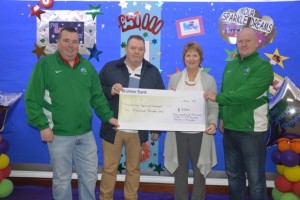 Starting Monday 4th January we are delighted to bring you 'Building Better Lives – Exercise & Weight Management Programme', this programme is open to anyone, there is no limit on age, sex or ability. It's also open to non-members of Downpatrick FC, do you want that extra motivation to help get fitter and shed some pounds then check out the football clubs website for more details downpatrickfc.co.uk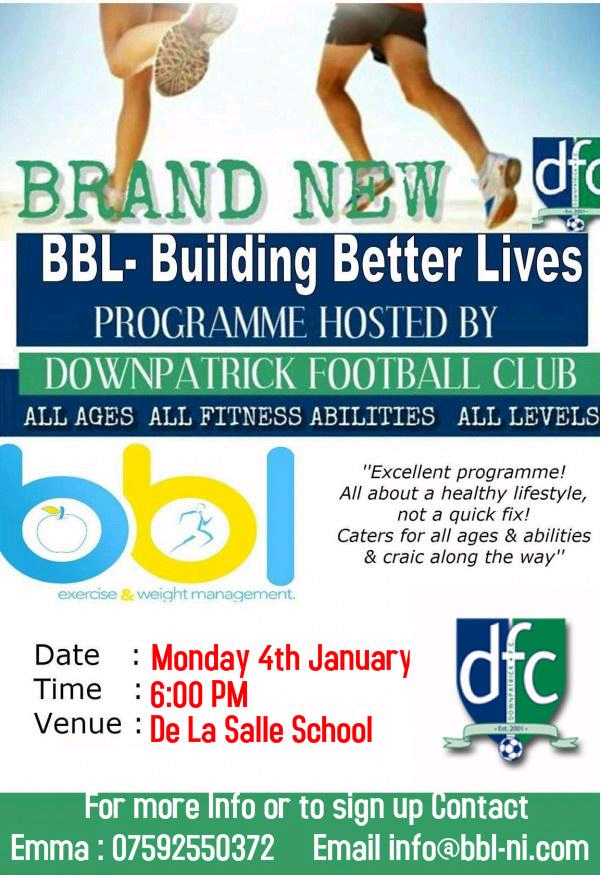 Downpatrick's Youth Development Officer Paul Moore also presented the pupils of Knockevin Special School with some selection boxes and crisps, sweets & drinks for their Christmas Party, also included in the photo is Anne Cooper (Principal) and Gail Pascoe (Teacher).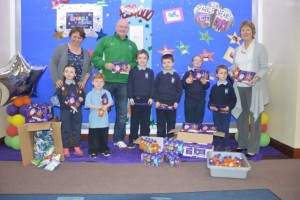 Downpatrick firsts next match after Christmas is on Saturday 2nd January when they welcome Islandmagee to Rosconnor, this match kicks off at 2.00pm. If any business is interested in sponsoring a match please contact Tony McShane 07716 583990.
This next match for the seconds is also on Saturday 2nd January, they play Castlewellan 2nds in the first round of the Harry Clarke cup, kick off is at 1.30pm.
Training on a Monday night for our mini will start on Monday 4th January from 00pm – 7.00pmin the Red High, this training is aimed for 4 year olds to 10 year olds. All old and new players are welcome, if you would like more information please contact Paul Moore on 07549 661772. (Please ensure your child is dressed for the weather, it can get very cold).