This weeks club notes includes all the information on our weekly fixtures, training sessions and upcoming club fundraisers, click on the link below to read more…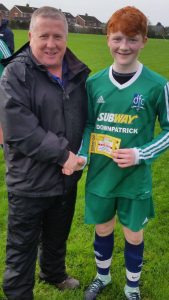 Club Notes – Week Beginning 23/10/17
The 100 Club Draw for October is on this Saturday in Murphy's Bar & Restaurant after the first team game, we have a selection of numbers which have become available, if you're interested in taking a number please contact Mark Murphy 07738 637702.
The first team travel to play Immaculata on Saturday afternoon in the league, this match kicks off at 2.00pm.
If anyone is interested in sponsoring a match for one of our senior teams please contact Tony McShane on 07716 853990 for further information.
The seconds travel to play Mourne Rovers on Saturday afternoon, this match kicks off at 2.00pm in the league.
The under 18's are in cup action this Saturday, they play Hillsborough Boys in the Harry Cavan Cup, this match kicks of at 1.30pm at the Bridge Centre in Killyleagh.
The under 16's play Lisburn Rangers on Saturday morning in the league. This match kicks off at 9.30am and is at Dromore Playing Fields. Downpatrick's man of the match last Saturday was Jack Fitzsimons who receives a 'Golden Ticket' from sponsors Downpatrick Subway.
The under 14's play in the league on Saturday morning, they play Hillsborough Colts in Barbour at 9.30am.
The under 13's play Rossglass County on Saturday 28thOctober in Dunleath, kick off is at 11.00am.
The 2006's 9-a-side teams have a free week this weekend.
The 2007's 9-a-side team fixture hasn't been announced at the time of writing.
The small sided games development centre is up in the Red High on a Sunday Morning, this is for our under 8's and under 10's. The coaches will be in touch about who is playing and at what hour.
A representative from Club SportNI will be at the changing rooms on Monday 6th November from 6.00pm – 8.00pm for anyone who wants to buy some club gear for Christmas. Please note that any items ordered must be paid for at the time of ordering.
Training times for our Mini Soccer section are below but please note that there will be no training on Monday 30th October due to mid-term.
Training for mini soccer has moved up to the 3G Pitch at the Red High, the training times for the different age groups are as follows: 2010, 2009 & 2008 are training from 6.00pm – 7.00pm and those born in 2006 & 2007 are training from 7.00pm – 8.00pm, they need to wear shin guards and football boots, bring a bottle of water and dress according to the weather conditions. Parents are asked to complete the registration forms as soon as possible and return them to Paul Moore or Tony McShane.
Training for children born in 2013, 2012 and 2011 will begin on Monday 9thOctober in the Red High from 6.00pm – 7.00pm. The children born in 2011 will be outside this year and those born in 2012 will be indoors. Any questions please contact our Youth Development Officer Paul Moore on 07549 661772.