This weeks club notes include information on our weekly fixtures, the results of our 100 club draw, an update on the training times for the mini soccer age groups and another award for the multi-talented Kyla Trainor, click on the link below to read more…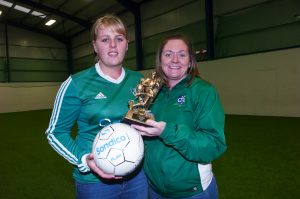 Club Notes – Week Beginning 31/10/16
Everyone at the football club would like to congratulate our ladies team player Kyla Trainor who was awarded the ultimate accolade on Saturday night at the annual NIWFA awards. Kyla was awarded the Ladies Player of the Year for the Division 1 South League. Well deserved.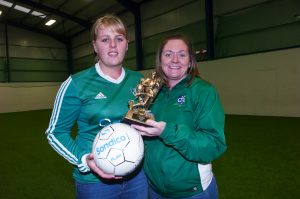 Also, congratulations to Jim McStravick who was the first winner of the football clubs first ever 100 Club Draw on Saturday 29th October when his number (52) was the first number drawn out to win £250.00. The second prize of £150.00 went to Joe McMahon and the third prize of £100.00 went to Andrew Healey. We would like to take this opportunity to thank everyone who bought a number of the football club.
Downpatrick travel to play Malachians on Saturday in the league, this match kicks off at 2.00pm. Please note that the Border Cup Semi-Final against Immaculata is now on Wednesday 9th November in Seaview, the kick off is still 7.30pm.
The seconds are back in action on Saturday after not having a game the last two Saturday's, they travel to play Mourne Rovers in the league at Carginagh Road Playing Fields. This match kicks off at 2.00pm.
The under 19's play league leaders Linfield on Saturday morning in Drumbo, this game kicks off at 9.30am. At the time of writing the fixtures for our under 16's and 13's in the Lisburn League haven't been released, management will update all players once we have received them.
In the Downpatrick Youth League the under 15's travel to play Kilmore Rec on Saturday morning, this match kicks off at 10.50am at Kilmore Playing Fields.
The 9-a-side development team has two fixtures on Saturday morning, the first match against Newcastle kicks off at 10.25am and the second match against Kilmore Rec kicks off at 10.50am, both these matches are in Dunleath.
The Mini Soccer section returns to the normal hours on Sunday 6th November, coaches will be in touch later in the week to inform all kids of what times they play this wee.
Our Mini Soccer and under 6 training returns on Monday 7th November, the under 6's and kids born in 2010, 2009 and 2008 is from 6.00pm – 7.00pm and those children born in 2007 and 2006 is from 7.00pm – 8.00pm. Please note the under 6's training is indoor.