There will be no Christmas Final for Downpatrick this year as they bow out of the Border Cup with a poor showing against Comber Rec, click on the link below to read more…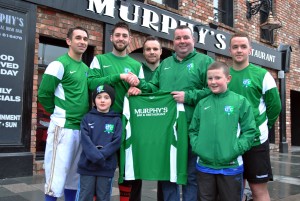 Saturday 17th October – NAFL Border Cup Quarter Final
Comber Rec 3 v Downpatrick FC 0
Downpatrick's run in this seasons Border Cup came to an abrupt end on Saturday at the hands of Comber Rec at Park Way. The visitors started the game well and were causing Comber a few problems but then fifteen minutes into the game they found themselves behind thanks to a deflected shot deceiving Michael McKenna in the Downpatrick nets.
This goal appeared to unsettle Downpatrick and passes and deliveries started to go astray. Comber's confidence grew and it wasn't long before they doubled their lead. Comber got a free kick out wide and the delivery was met by the Comber striker, who got across the static Downpatrick defence to head the ball past a helpless McKenna.
Half Time: Comber Rec 2 v Downpatrick FC 0
In the second half Downpatrick tried to get back into the game but again the final pass or delivery was going astray. Injuries to strikers Stephen Galbraith and Ricky Kerr meant that Downpatrick had to reshuffle their pack but even this failed to ignite a comeback.
With the game entering the final fifteen minutes Comber sealed their passage into the semi-final of this year's Border Cup. Former Kilmore Rec player Joe McKinney burst into the Downpatrick box and was fouled by Niall Walsh leaving the referee with no option but to point to the spot. Comber's striker made no mistake when blasting the ball into the net to be greeted with huge cheers from the home supporters.
Downpatrick: 1) M McKenna 2) T Bell 3) B Connolly 4) N Walsh 5) M Holland 6) A Baggley 7) B Treacy 8) A McGarry 9) S Galbraith 10) R Kerr 11) C McGrady 12) E Boyle 14) C McDowell 15) C Holland
Match Sponsors: Murphy's Bar & Restaurant, Downpatrick