Downpatrick got back to winning ways with a hard fought away victory at Crumlin United, click on the link below to find out how…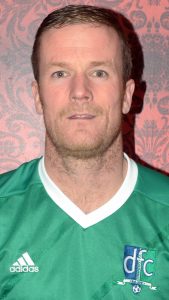 Saturday 5th February – NAFL Premier Division
Crumlin United 1 v Downpatrick FC 2
Having not played a league game in nearly four weeks Downpatrick resumed their league campaign on Saturday when they travelled to Crumlin United, a pitch which holds happy memories for them in recent seasons. They secured promotion back to the Premier League in recent years at this ground.
The opening fifteen minutes of the game were a cagey enough affair as both teams got to grips with the underfoot conditions. Either side failed to create any chances as the ball was mainly contained in the midfield. Then on twenty minutes the visitors opened the scoring, the ball started in left back with Blaine Connolly who passed it along the back line via Johnny Cheevers who was making his debut to Barry Fitzsimons at right back. Downpatrick's captain quickly transferred the play up the line to Terence Bell, the 'Green's midfielder beat the Crumlin left back before setting the ball up for Fitzsimons. Fitzsimons delivered the perfect cross for Mark Holland who side volleyed the ball into the top corner from the penalty spot.
As the game entered the final five minutes of the half Crumlin started to put the Downpatrick defence under a bit of pressure. Their striker broke through one on one with Michael McKenna but the Downpatrick goal keeper stood up strong and gathered the ball comfortably. On the stroke of half time they hosts scored their equaliser, the ball was played up the right wing before being crossed for the Crumlin striker to volley home.
Half Time: Crumlin United 1 v Downpatrick FC 1
The second half followed the first half with both teams failing to create many chances, midway through the half Downpatrick went back in front and it was that man Holland who scored again. Downpatrick won a free kick out on the left wing, Neil Taggart drilled the free kick towards the back post and Mark Holland rose highest to head the ball back across the net into the near post.
Downpatrick controlled the remainder of the game with their defence of Fitzsimmons, Taggart, Cheevers and Connolly thwarting the Crumlin attacks. In the final ten minutes Downpatrick could have scored a third when Aaron McGarry saw his header go agonisingly wide from a Ricky Kerr cross. The Downpatrick management will be happy to get back to winning ways and will look for their players to push on now and go on an unbeaten run.
Downpatrick: 1) M McKenna 2) B Fitzsimons 3) B Connolly 4) N Taggart 5) J Cheevers 6) P Telford 7) T Bell 8) R Kerr 9) P Traynor 10) M Holland 11) A McGarry 12) C McCarron 14) T McIlhone 15) N Walsh