Two local clubs selected as part of Ifa/McDonalds Foundation Club Mark Programme, to find out more click on the link below…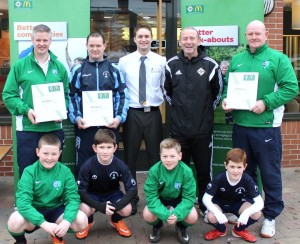 Downpatrick FC and Rossglass County FC have been selected and are currently completing the Ifa / McDonalds Foundation Club Mark Programme.
The programme is aimed at grassroots clubs who would like support as they develop their club through good practice policies and procedures.
Both Downpatrick FC and Rossglass have an excellent youth structure were young players from the age of five have a pathway for their development through their coaching and the DYFL / McDonalds small-sided-games programme which then feeds into the DYFL leagues.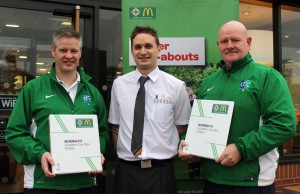 On completion of the programme both clubs will receive bursaries towards coach education and equipment to help enhance their sessions.
Downpatrick FC coach Mark Murphy commented; "Having recently just completed my Ifa level 1 coaching course I believe the programme will give me more confidence and guidance to deliver properly structured sessions to our young players in a safe and pressure free environment. I was also delighted to meet legend Pat Jennings who wished us all the best as we go forward."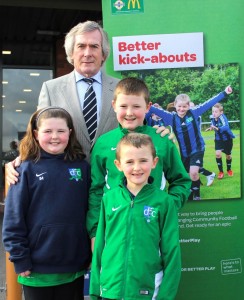 Darren Teggart, development coach at Rossglass County is delighted with the progress so far; "Over the recent weeks I have seen a massive and positive improvement in all our players and set up. The guidance with sessions and the latest coaching and club development ideas had really given us all a lift. Seamus's hands on approach have just been fantastic for me, our players, coaches and parents."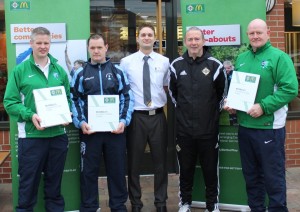 Local Ifa representative Seamus Heath who recently has been asked to service the newly formed RPA area of of Newry, Mourne & Down commented; "Although my net widens vastly very shortly it has been great seeing two local clubs develop at their own pace with positives outcomes. The wiliness of all involved in both clubs to improve their standards and embrace new ideas was a credit to all. It is only a matter of time before we will all see the progression being achieved."