The IFA's Club Excellence Mark is an Accreditation Scheme also known as the Football for All Club Excellence Mark. To find out what this accreditation involves and how the club achieved this accreditation click on the link below to find out more…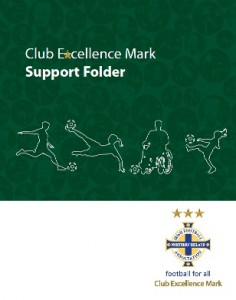 The FFA Club Excellence Mark is a tiered system with three different levels of accreditation:
1 Star (entry standard)
2 Star
3 Star (top standard)
Within each Star Criteria the Club Excellence Mark provides support to each club in the following areas:
Club Governance – how the club is run in terms of committees, structures, guiding policies and principles.
Duty of Care & Protection – how the club looks after its members, players, coaches and volunteers and protects them from harm when representing the club.
Games & Coaching Development – how the club provides opportunities for development for all potential players and coaches.
Community Engagement & Outreach – how the club connects with the wider community.
The process for achieving the Club Excellence award involves building a portfolio of policies and procedures that guide the running of the club. This ia an open-ended process and can take anywhere from a few weeks to a few months. The assessment process will take place once the club is happy it has met all the criteria, this will have two stages:
The first will be the completition of the club portfolio assessment
The second stage will be more practical and will involve a club visit during regular club activity. It will include observing the activity as well as meetings with coaches, parents and club committee members.
Once a club achieves Club Mark status this will be valid for a three year period including a review within 12 – 15 months of your club obtaining its Football Club Excellence Mark.