Downpatrick FC launch their Mental Health and Wellbeing club documents, to read more click on the link below…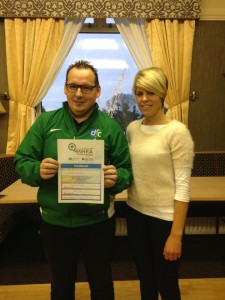 Club Notes – Week Beginning 25/05/15
Downpatrick Football Club is pleased to announce the launch of our club documents around Mental Health and Wellbeing. Sport NI recently launched their pilot scheme promoting Mental Health programmes with local clubs ranging from Grassroots to High Performance Level. We at Downpatrick were keen to get involved with this scheme and had two of our coaches attend the training programme, Emma Bohill and Andrew Healy. Speaking about the training Andrew Healy was keen to promote the advantages, ''Mental Health and Wellbeing of players is becoming more and more important in sport, and it's vital we as a football club provide any help which may be needed. This type of programme helps us to build mental resilience in our members and provide them with support when needed.'' Club Chairman Thomas Leckey was also full of praise for the programme and the work which has went in to preparing the club documents, he commented, ''In the last number of years we have strived to provide our members with the best opportunities and with the introduction of the Youth Section last year and it's undoubted success it's important we provide them with knowledge and skills to identify Mental Health and Wellbeing Issues and have structures in place to support our members. I thank Sport NI for the opportunity for our club to be involved and I commend Emma and Andrew for stepping forward to take part in the programme. The club policies can be located on our website under the 'About Us' section, we would advise everyone to take five minutes to download them and read them carefully as they provide some important information.
We will be starting a 'Development Centre' for the four Mondays in June for children aged from 4 year old to 10 years old in the 3G Pitch at the Red High, each session will cost £2.00 for each child. This Centre is open to all children in the community not just Downpatrick FC Members, it will start from the 1st June, if you have any questions please contact Paul Moore on 07549 661772.
The ladies are in action tonight (Wednesday) when they travel to play Banbridge Ladies in the league, this match kicks off at 8.00pm.