Downpatrick progressed to the second round of this years Steel & Sons Cup were they will face Sport & Leisure from Division 2 of the NIFL Championship after a hard fought victory against Ballynure OB, click on the link below to find out how…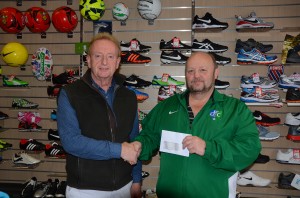 Saturday 15th August – Steel & Sons Cup Final
Downpatrick FC 4 v Ballynure O.B. 2
The first cup competition of the season saw Downpatrick welcome Ballynure OB's to Rosconnor in the first round of the Steel & Sons Cup Competition. This was Downpatrick's third game in seven days and after two impressive victories the home side were looking to make it three out of three.
The opening ten minutes were very cagey with both sides not wanting to make any mistakes, however this all changed when Christian Holland played a superb ball down the line for Ricky Kerr who controlled the ball then beat the defender with ease. Kerr found himself one on one with the Ballynure goal keeper and he unselfishly passed the ball inside to the unmarked Stephen Galbraith who had the simplest task of tapping the ball into the net.
On the half hour mark Ballynure got back on level terms, the Ballynure striker was released and found himself bearing down on goal, he went round Downpatrick goal keeper Michael McKenna and shot from a tight angle. Unfortunately Niall Walsh tried in vain to clear the ball but inadvertently put the ball in his own net for an own goal.
Half Time: Downpatrick FC 1 v Ballynure O.B. 1
Within five minutes of the second half Downpatrick found themselves behind to a dubious goal. A long clearance from the Ballynure back line appeared to be sailing into the arms of McKenna but their striker jumped into the home keeper as he was collecting it and knocked the ball out of the Downpatrick keeper's hands with his elbow, knocking the keeper over in the process before tapping the ball into the empty net.
As the clock reached the hour mark Downpatrick were forced into making a substitution as Conor McCarron replaced the injured Conail McGrady. A quick one two between Kerr and Galbraith helped the latter have a speculative shot which the visiting keeper pushed away for a corner. From the resulting corner Barry Treacy whipped in an inch perfect cross which Aaron McGarry met on the six yard box to power home an unstoppable header.
Downpatrick got their noses back in front with fifteen minutes remaining, McCarron flicked on a ball for Kerr to run on to, he tried to go round the keeper but was fouled in the process giving the referee no option but to point to the spot. Top scorer Galbraith placed the ball on the spot and with confidence dispatched the penalty superbly.
Midfielder Andy Baggley ensured Downpatrick's progression into the second round with a well taken goal with only minutes remaining. The combative Baggley latched onto a brilliant through ball from McCarron, held off the Ballynure defender before having the presence of mind to lob the advancing keeper. Downpatrick will now play Sport & Leisure in the second round at home.
Downpatrick: 1) M McKenna 2) B Fitzsimons 3) C McDowell 4) N Walsh 5) M Holland 6) C Holland 7) A McGarry 8) A Baggley 9) S Galbraith 10) R Kerr 11) C McGrady 12) C McCarron 14) B Treacy 15) B Connolly
Match Sponsors: McCartan Sports, Downpatrick