Downpatrick made it into the final of this sesasons Clarence Cup with a two nil victory over 1A side Lisburn Rangers, click on the link below to read more…
Photos By: Conrad Kirkwood
Wednesday 20th April – NAFL Clarence Cup Semi-Final
Downpatrick FC 2 v Lisburn Rangers 0
Downpatrick progressed to this years Clarence Cup final at the expense of Lisburn Rangers on a sun swept Seaview pitch. Having saw three of their league games called off recently Downpatrick started the game rather tentatively and were slow into their stride. Lisburn Rangers striker Nathan McConnell should have put his side in front but he failed to beat Downpatrick's Michael McKenna.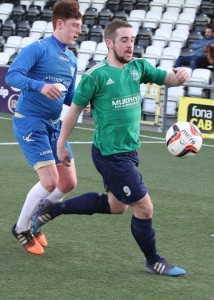 Downpatrick's first chance of the game fell to top scorer Stephen Galbraith but the normally reliable striker failed to connect properly with his attempted lob and the chance was lost. Just before the half hour mark Downpatrick got that all important opening goal, a brilliant run down the right hand side from Barry Treacy resulted in the Lisburn left back getting back and giving Downpatrick a throw-in. A long throw from captain Barry Fitzsimons was met by Peter Telford and his header looped over the Rangers keeper into the net.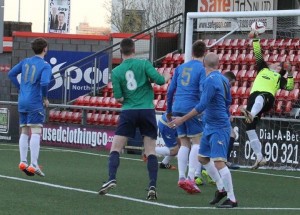 Five minutes later Downpatrick had a glorious opportunity to double their advantage, Blaine Connolly had a free header on the six yard box but some how managed to head over the bar. Downpatrick ensured they went in at half time with goal advantage.
Half Time: Downpatrick FC 1 v Lisburn Rangers 0
Lisburn Rangers came out after the half time break with a bit of purpose and fashioned a few long range shots which came to nothing. Then five minutes into the second half Lisburn had a shot from outside the box and Downpatrick's keeper Michael McKenna got down early to thwart the danger.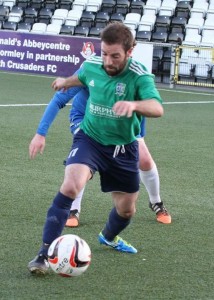 Downpatrick doubled their advantage shortly after with another header in the box. Christian Holland swung in a corner, Telford again challenged for the ball with the Lisburn keeper and the ball bounced into the path of winger Aaron McGarry who sent his header into the roof of the net.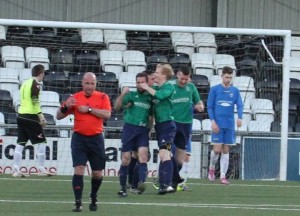 Downpatrick rang the changes bringing on Ricky Kerr for Galbraith, Andy Baggley for Telford who had ran himself into the ground with a man of the match performance and Adrian McCoubrey for Jamie Sharvin. For the remainder of the game Downpatrick defended superbly as a team and as individuals, the backline of Fitzsimons, Matthew Carson, Connolly and Holland stopping the Lisburn attack from getting through to McKenna.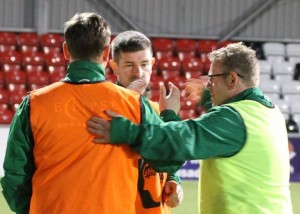 Downpatrick: 1) M McKenna 2) B Fitzsimons 3) C Holland 4) M Carson 5) B Connolly 6) J Sharvin 7) B Treacy 8) P Telford 9) S Galbraith 10) P Traynor 11) A McGarry 12) R Kerr 14) A Baggley 15) A McCoubrey