Dromore proved too strong for Downpatrick under 14's, click on the link below to read more…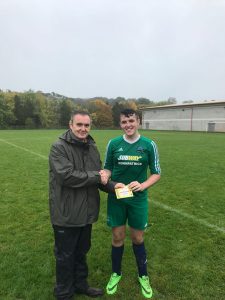 Saturday 14th October – LYFL under 16's
Downpatrick FC 2 v Dromore 4
Dromore attacking from the start and had some meaningful strikes on target in the opening fifteen minutes which Downpatrick goal keeper Matthew Killen was able to handle, making decisive saves. Downpatrick were dangerous on the break and a Luke Shields goal midway through the half put the 'greens' in front.
Two minutes after going behind Dromore were awarded a penalty which they converted to make it one all. A Colin Jones goal from Ethan Artt free kick on 31 minutes put Downpatrick back in front but just on the stroke of half time Dromore equalised from free.
Half Time: Downpatrick FC 2 v Dromore 2
In the second half both sides had chances to score but unfortunately only one team made the break through. Strikes from Nathan Sharvin, Luke Shields and Conaill Gardiner of Downpatrick were well saved. Dromore scored three goals in the final ten minutes to secure all three points.