---
A double figure scoring blitz saw Downpatrick put Bangor Amateurs to the sword and booked their passage into the second round of this years Border Cup, click on the link to find out who scored all the goals…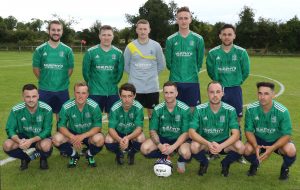 Saturday 3rd September – NAFL Border Cup 1st Round
Downpatrick FC 11 v Bangor Amateurs 1
Downpatrick cruised to the second round of the Border Cup by defeating Bangor Amateurs at Rosconnor. The home side got off to the perfect start, scoring after ten minutes through striker Stephen Galbraith. Aaron McGarry took the ball down the left wing and crossed for Galbraith to head home.
Five minutes later the same two players combined to score Downpatrick's second goal. Galbraith played a one two with McGarry before embarking on a solo run and scoring with his right foot from twenty yards out. Aaron McGarry got in on the act on the half hour mark, Barry Treacy swung in a corner which was met by Jack McLaughlin but his shot was saved allowing McGarry to score from the rebound.
Stephen Galbraith completed the perfect hat-trick shortly after, a great through ball from midfield allowed the Downpatrick striker run unchallenged to the Bangor goal and calmly scoring at the far post. Just before half time Galbraith scored his fourth of the game, a quick turn saw him one on one with the keeper before sliding the ball past him into the net.
Half Time: Downpatrick FC 5 v Bangor Amateurs 1
Downpatrick resumed the scoring in the second half, Aaron McGarry took the ball down the wing before passing to midfielder Andy Baggley who controlled the ball on his knee and then hit the crossbar. As the ball rebounded debutant Barry Holland sent a diving header into the back of the net. Baggley then set up McLaughlin to score after a promising run and beating the Bangor defender to rifle the ball home.
Downpatrick then missed a penalty when Michael McKenna saw his spot kick saved by his Bangor counterpart. Substitute Mark Holland got his first of the game when he got on the end of a McLaughlin corner to put the ball into the back of the net. Minutes later Bangor scored a consolation goal, their left winger sent a perfect cross for his strike partner to put the ball past McKenna into the net to make it 8 – 1.
Another Downpatrick corner allowed Blaine Connolly to get his name on the score sheet with a perfectly timed header. As the game entered the final ten minutes Mark Holland scored two more goals to complete his hat-trick, the first of those goals was a side footed shot after Barry Treacy cut the ball back and the last goal was saw Holland out fox his defender on the edge of the box before unleashing an unstoppable left footed shot into the net.
Downpatrick: 1) M McKenna 2) B Fitzsimons 3) B Connolly 4) M Carson 5) N Taggart 6) A Baggley 7) B Treacy 8) B Holland 9) J McLaughlin 10) S Galbraith 11) A McGarry 12) T Bell 14) M Holland 15) T McIlhone