Downpatrick Ladies got their league campaign off to the perfect start when they welcomed Comber Ladies to Dunleath, managers Mark Leahy, Mark Henry and coach Mark Holland had their players set up perfectly to secure all three points, click on the link below to read more…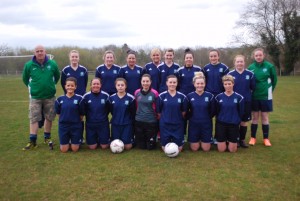 Wednesday 22nd April – NIWFA Division 1 South
Downpatrick FC Ladies 4 v Comber Ladies 0
Downpatrick ladies opened their 2015 league with a victory in a local derby clash with Comber ladies at home on Wednesday night. The hosts hit the ground running at a ferocious pace pinning Comber back in their own half. It didn't take long for Downpatrick ladies to find the back of the net when Orla Boyle opened the scoring just after 8minutes of play for the home side with a great strike from just inside the box.
Comber tried to take advantage from the centre when they played a long ball over Downpatrick midfield and into the defence only to be met by the fierce backline Melissa McComb, Ola Holland, Michelle Madine and Orla Beattie who confidently worked the ball out. It didn't take long for Downpatrick to add to their score, on the counterattack when quick play in midfield from Kiara Whan, Louise Baker, Orla Boyle and Kerry Fisher pushed forward, a long cross in from Kyla Trainor met the feet of Fisher, who after steadying herself struck the ball into the top left corner away from keepers reach.
Comber struggled to get a foothold in their game as the hosts continued to play with quick tempo creating a number of chances but just not finding the net. The Comber defence were feeling the pressure of Downpatrick's youngest striker Morgan Shannon who showed no fear in her attempt to get on the score sheet but was thwarted by the Comber keeper.
Downpatrick went 3 nil up when a corner kick from Trainor met the foot of a comber defender only for it too to find the back of the net. Downpatrick were cruising to half time and almost scored a fourth when a free kick again from Kyla Trainor found Kerry Fisher who beat the keeper to chest the ball into the back of the net only to be told the goal was disallowed.
Half Time: Downpatrick FC 3 v Comber Ladies 0
Following a few changes in the second half, Downpatrick continued to put the pressure on with Orla Boyle and Louise Baker dominating midfield. With a strong force on the left side of midfield with Aisling Flynn, who bombed up the wing only to hook a perfect ball into the box met in the air by Orla Boyle only to have it cleared by the keeper, the clearance fell at the feet of an attacking Emma Bohill who confidently struck the ball into the net.
Any ball that tried to sneak into Downpatrick half was quickly cleared by Holland, Madine, Beattie and McComb. Downpatrick Ladies made a statement in their opening game of the 2015 season and proved that they mean business this year!
The men's first team manager who was down supporting the ladies quoted "excellent girls, and Kerry fisher with an early goal of the season contender"