Downpatrick firsts secured the league title in impressive style…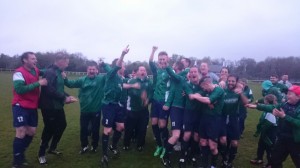 Tuesday 28th April – NAFL Division 1A
Crumlin United 1 v Downpatrick FC 2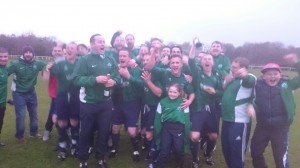 Having already secured promotion back to the Premier Division of the Amateur League, the management duo of Joe McMahon and Kevin Trueman weren't satisfied until they secured the Division 1A title. On a wet Tuesday night in April they travelled to play the only team who could thwart their title aspirations, Crumlin United.
It took ten or fifteen minutes before both teams adjusted to the driving rain and windy conditions. Downpatrick settled first with Eoin Boyle and Andrew Telford causing the Crumlin defence all sorts of problems, Telford in particular with his direct running was looking the most dangerous. On the half hour mark Downpatrick took control of the match, good link up play on the right hand side between Barry Fitzsimons and Barry Treacy created space for Boyle who's inch perfect pass allowed Telford the opportunity to control the ball and shoot past the Crumlin United goal keeper.
Half Time: Crumlin United 0 v Downpatrick FC 1
Crumlin United came out in the second half and were determined to get themselves back on level terms, in the opening fifteen minutes they enjoyed a sustained period of pressure on the Downpatrick defence. Led by Mark Holland, skipper Fitzsimons, Niall Walsh and Christian Holland were determined not to let Crumlin score as they kept their advances at bay and when they did get past the defence Downpatrick's goal keeper Michael McKenna was on hand to save any shots that came his way.
With almost an hour gone Downpatrick doubled their advantage, winger Conail McGrady passed the ball inside to central midfielder Aaron McGarry who played a one-two with midfield partner Andy Baggley. McGarry advanced down the middle of the pitch beating a Crumlin defender before firing an unstoppable shot from 25 yards into the bottom corner. A goal which turned out to be the goal that secured the league title and what a fitting goal it was.
In the last twenty minutes Crumlin tried to get back into the game and after winning several corners they managed to score, the ball was crossed over into the Downpatrick box. The defence only managed to half clear the ball and as it was sent back into the Downpatrick box, Barry Fitzsimons stuck out a leg and the ball ricocheted past McKenna to make it 2 – 1.
As the clock ticked towards 90 minutes Crumlin tried to exert some pressure on Downpatrick but they held their nerve to secure the vital three points needed to claim the title. When the referee blew the final whistle it was met with huge scenes of celebration and cheers from the large Downpatrick crowd who travelled to the match.
Downpatrick: 1) M McKenna 2) B Fitzsimons 3) C Holland 4) M Holland 5) N Walsh 6) A Baggley 7) B Treacy 8) A McGarry 9) E Boyle 10) A Telford 11) C McGrady 12) A McCoubrey 14) C McCarron 15) B Connolly