There will be no Steel & Son's Cup run for Downpatrick this season, click on the link below to find out how they were beaten…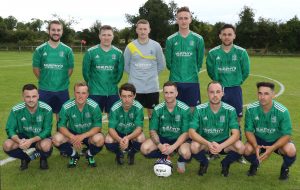 Saturday 27th August – Co. Antrim Steel & Sons Cup 2nd Round
Shankill United 5 v Downpatrick FC 1
Downpatrick's interest in this seasons Steel & Sons cup competition has ended in emphatic style at their first hurdle having received a bye in the first round. Saturday's result was a one off with Downpatrick missing up to 14 players due to suspension, injury, holidays and work commitments.
Downpatrick got of to the worst possible start when after only two minutes Shankill were awarded a penalty, a perfect through ball allowed the Shankill striker to go one on one with Michael McKenna and as the striker rounded McKenna the Downpatrick keeper brought him down in his attempts to grab the ball receiving a yellow card under the new rules. Shankill dispatched the penalty kick into the bottom corner with Michael McKenna getting a hand to the shot.
Downpatrick tried to get into the game and were unlucky not to equalise when Stephen Galbraith found himself in a good position but instead of shooting the striker tried to cut back onto his left foot before being dispossessed. Peter Telford then went close only to see the ball rebound of the post. On fifteen minutes Shankill doubled their advantage, the won a throw-in down the right hand side and was thrown infield where the Shankill player swivelled and hit a sweet shot which nestled into the top corner.
On the half hour mark Downpatrick's woes got even worse, Shankill caught Downpatrick on the counter attack and as Andy Baggley appeared to snuff out the danger by shepherding the ball over the by-line. The Shankill winger didn't give up and managed to keep the ball in before cutting the ball back for his striker who neatly placed the ball into the far corner beyond the reach of McKenna.
Half Time: Shankill United 3 v Downpatrick FC
Downpatrick came out in the second half trying to force the game but it was Shankill who put the game beyond doubt. Downpatrick had a free kick which was cleared by the home side defender allowing his team to break and score their fourth goal of the game. Ten minutes later the home side scored their fifth and final goal of the game, Adrian McCoubrey tried to pass the ball back to Michael McKenna but his pass was under hit allowing the Shankill striker to capitalise and slip the ball into the back of the net.
Downpatrick tried in to create some clear chances but could only manage half chances which were dealt with comfortably by the Shankill keeper. In the final ten minutes Downpatrick scored a consolation goal, an Eoin Boyle shot was deflected for a corner, Jack McLaughlin took the corner and it was headed home by McCoubrey at the near post. With the Border Cup next week Downpatrick will be looking for a few more faces to return if they hope to get back to winning ways.
Downpatrick: 1) M McKenna 2) B Fitzsimons 3) B Connolly 4) A McCoubrey 5) A Baggley 6) P Telford 7) T Bell 8) R Fitzpatrick 9) E Boyle 10) S Galbraith 11) A McGarry 12) J McLaughlin 14) C McKenna 15) M Holland