In their first full season in the Lisburn League, Downpatrick under 14's have proved the decision to enter this league was the correct decision. Right from the first game of the season the players have showed they were capable of more than holding their own in this league, click on the link below to read more…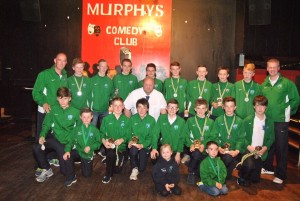 Tuesday 12th May – Lisburn Invitational Junior League under 14's
Downpatrick FC 2 v Shankill Juniors 1
Ironically the first game of the season was against today's opponents and on that occasion Shankill won the game one nil. To be able to come complete circle and beat the same opponents in a playoff for second place show's the improvement in this side.
The half started slowly with both teams feeling each other out, but as the half wore on Downpatrick started to take control of the game, especially in the midfield area with Brandon Boyd and Corey McCoubrey controlling the play. Downpatrick were able to create a couple of chances through Kian Tierney and Eoin Rooney, although nothing came of them Downpatrick were growing in confidence as they stroked the ball round the pitch.
Half Time: Downpatrick FC 0 v Shankill Juniors 0
Downpatrick were forced to make a change at the start of the half as Declan Looney picked a hamstring injury, he was replaced by Philip Doran. Five minutes into the half Doran ran down the left wing and played the ball into Rooney to get an early shot away, the Shankill defence could only clear to the edge of the box where Ruairi Quinn was lurking, he hit a sublime volley into the top corner to make it 1-0.
A few minutes later Kian Tierney linked with Rooney in the middle of the park, Rooney then returned the pass to Tierney who broke free from 3 defenders and had the presence of mind to lob the keeper from 30 yards to double Downpatrick's advantage.
Shankill tried hard but couldn't get back into the game, with a few minutes to go Shankill had a rare attack which the Downpatrick defence struggled to deal with and the Shankill striker ended up scuffing his shot into the bottom corner of Shane Campbell's net to make it 2-1. The goal came too late in the game for Shankill to try and force extra time and Downpatrick held on to secure second place.