Downpatrick seconds secure a quarter final place after a hard fought encounter with Newcastle Swifts, this match went into extra time, click on the link to read more…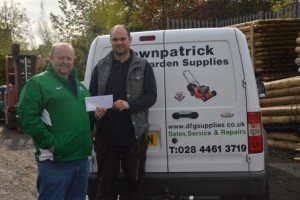 Saturday 31st January – NADAFL Bobby Dalzell Cup
Newcastle Swifts 1 v Downpatrick Athletic 3 (AET)
Downpatrick progressed to the quarter final stage of this year's Bobby Dalzell Cup with a hard fought extra time battle against Newcastle Swifts. The 90 minutes of this game wasn't one to be remembered for plenty of goal mouth action with both teams cancelling each other out.
Downpatrick dominated the exchanges in the first half and enjoyed plenty of possession but the few chances they created were thwarted by Newcastle goal keeper Aidan Small. The battle in this game was going on in the central midfield area with Downpatrick's Peter Turley and Conor Curran providing tough opposition for Newcastle's midfield partnership. Up front Frank Starkey and Peter Telford were causing the home side defence some problems but were being contained well.
Half Time: Newcastle Swifts 0 v Downpatrick Athletic 0
The second half continued in much the same vain as the first half with Downpatrick's goal keeper Johnny Holland having very little to do thanks to the resolute defending in front of him from Ryan Fitzpatrick, Conaill Kerr, Gary Trueman and Kevin Gracey. Telford had two wonderful chances to score when both times he found himself one on one with Small only for the keeper to save brilliantly from the first effort and McCarthy to get back and make an outstanding last ditch tackle.
Full Time: Newcastle Swifts 0 v Downpatrick Athletic 0
Extra time came alive as early as the third minute when Starkey received the ball on the edge of the box and played a quick one-two with Telford before shooting and scoring in the bottom right hand corner just beyond the reach of small. Downpatrick had the bit between their teeth now and were attacking in numbers and this led to the Newcastle equaliser. With too many players pushed forward Newcastle recovered possession and quickly found danger man Neil Corr who evaded the Downpatrick defenders and found himself one on one with Holland and gave the visiting keeper no chance to bring his side level.
Extra Time – Half Time: Newcastle Swifts 1 v Downpatrick FC 1
Two minutes into the second period of extra time Downpatrick got their noses in front, Turley broke up a Newcastle attack and found Starkey who had taken up a position wide on the left hand side. The big striker took on two Newcastle players before cutting inside and bending his shot into the top corner of the net for a superb goal. With time running out Downpatrick secured their passage into the quarter final through a Peter Telford strike. Telford had collected the ball from substitute Paddy Kerr on the right hand side and from a tight angle just inside the box the Downpatrick striker drilled a shot past the helpless Small.
Downpatrick: 1) J Holland 2) R Fitzpatrick 3) C Kerr 4) G Trueman 5) K Gracey 6) P Turley 7) C Evans 8) C Curran 9) P Telford 10) F Starkey 11) N Cunningham 12) S Matheson 14) P Kerr 15) S Sloan
Match Sponsors: Downpatrick Farm & Garden Supplies