Sport Northern Ireland launches its Mental Health and Wellbeing programme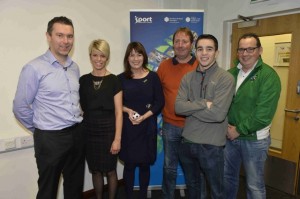 Sport Northern Ireland is today launching a Mental Health and Wellbeing pilot programme, operating until April 2015, which will target all aspects of positive mental health through sport from Grassroots to Developmental and High Performance level. The new programme will help Sporting Clubs and Governing Bodies build a Mental Health support structure and education programme.
Building on the success of the Sport Northern Ireland Mental Health Awareness initiative delivered in partnership with the Public Health Agency, work is now underway to deliver programmes that will have a direct impact on the coaching and playing population of sports clubs, right through from the Playground to the Podium.
Sport Northern Ireland have also brought in partners Sporting Chance, brainchild of former Arsenal and England Captain Tony Adams MBE, and Aware Defeat Depression, a charity which works exclusively for those with depression in Northern Ireland. Both Tony Adams and former Armagh GAA player Oisin McConville are helping to launch the new programme, lending their support to this important area of work. The programme will be piloted in seven key sports.
Speaking at the event, Sport Northern Ireland Chief Executive Antoinette McKeown echoed the words of Tony Adams when she said: "To build Mental Health Resiliance in the sporting community is an essential building block, but when a time comes that an individual asks for help, they need to receive this as quickly as possibly.
The area of Mental Health and Wellbeing is extremely important and sport is a vital component in building resilience, both personally as well as within the club setting. Our programme aims to build mental reilience in our athletes and provide support when it is needed."
Tony Adams MBE added his support to the programme saying: "We are delighted to be working with Sport Northern Ireland. For over fourteen years, we have been developing services to meet the needs of athletes' emotional welfare. In this time our services have evolved, I believe, to be recognised as unique and probably the best in the world for dealing with certain issues. This said, my original purpose still holds good, that when a sportsman or woman asks for support, someone responds. It is a great pleasure to work with people that share this vision."
Reinforcing the importance of this area of work, Oisin McConville added: "I didn't have to think twice about getting involved and as a Sport NI Sporting Ambassador I was keen to lend my support to this programme. The importance of addressing mental health issues in sport, and providing clubs and individuals with the knowledge and skills to identify and deal with issues cannot be underestimated. In sport it's about coaching the whole person not just the player, and this programme addresses this head on."
How to Get Involved
Through the course of this pilot programme it would be expected to have delivered this initiative in five Regions throughout Northern Ireland.
First region identified is East Down (Downpatrick) which is happening in November and December 2014. There will be four further regional programmes identified for delivery in January – March 2015.
If you are a club or governing body that wants help in developing structure and training around Mental Health and want to engage in this programme then please register your interest by emailing mhwb@sportni.net with your contact details, club name and sport.
For further information contact:
Catherine McKeown, Sport Northern Ireland, 07792 600121
Emma Blee, Sport Northern Ireland, 07964 908425
Website:www.sportni.net
Editor's Note
Sporting Chance, the brainchild of former Arsenal and England Captain Tony Adams MBE, is a charity which focuses on the treatment of behavioural problems among professional and amateur sports people.
Aware Defeat Depression has been working since 1996 to support all those in Northern Ireland affected by depression. They also welcome and support carers. They have an established network of over twenty support groups in rural and urban areas across the country, run by trained volunteers. Aware Defeat Depression is the only charity in Northern Ireland which works exclusively for those with depression.