Downpatrick maintained their interest in this years Border Cup with a fine performance against Nortel, click on the link below to find out how…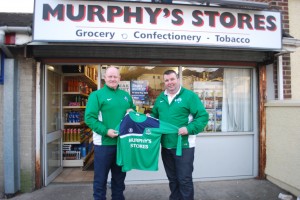 Saturday 10th October – NAFL Border Cup 3rd Round
Nortel FC 1 v Downpatrick FC 3
Downpatrick progressed to the quarter final of this years Border Cup with a professional performance in Monkstown against Premier League rivals Nortel. A hat-trick from top goal scorer Stephen Galbraith was more than enough to see Downpatrick's safe passage.
Downpatrick opened the scoring inside the first fifteen minutes. Central midfielder Andy Baggley picked the ball up in midfield and ran at the Nortel defence, he was allowed to advance to the 18 yard box before slipping the perfect pass for Galbraith to latch onto. Galbraith needed no invitation to shoot and his powerful finish went across the keeper into the bottom corner.
Nortel got back on level terms midway through the half, they won a corner which was dealt with comfortably by Downpatrick but as the visiting team were coming out a long high ball was played over the defence and with Chris McDowell slow to get out he played the Nortel striker inside. The Nortel number nine controlled the ball before chipping the advancing Michael McKenna to equalise.
Nortel were now enjoying a spell of possession and pressure in the game, Downpatrick had McKenna to thank for keeping the game level with two brilliant saves. Downpatrick's chances were helped when the Nortel player was sent off just before half time for reacting to a tackle.
Half Time: Nortel FC 1 v Downpatrick FC 1
In the second half Downpatrick made the extra man advantage count with two good goals. Their second goal of the game was set up by Andy Baggley, he delivered a perfect cross to the back post for Ricky Kerr, he controlled the ball and hit a low shot which was palmed out by the home sides goal keeper into the path of Stephen Galbraith who half volleyed the ball into the net.
Downpatrick's and Galbraith's third goal of the game came via the penalty spot. Galbraith went on a solo run past the three Nortel defenders and as he did the fourth defender slid in and took him down. He dusted himself down and expertly drove his spot kick to the back of the net.
Downpatrick's reward in the quarterfinal is another tough away fixture to Comber Rec this Saturday.
Downpatrick 1) M McKenna 2) B Fitzsimons 3) C McDowell 4) B Connolly 5) M Holland 6) A Baggley 7) B Treacy 8) A McGarry 9) S Galbraith 10) E Boyle 11) C Holland 12) R Kerr 14) T Bell 15) C McCarron
Match Sponsors: Murphy's Stores