Downpatrick come from behind in emphatic style to earn all three points against Albert Foundry, click on the link to read more…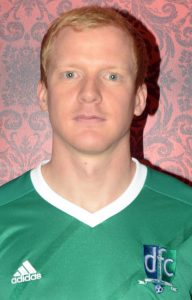 Saturday 8th April – NAFL Premier Division
Downpatrick FC 5 v Albert Foundry 1
Downpatrick welcomed Albert Foundry to Rosconnor on Saturday and ultimately produced one of their best performances in the league this season, especially in the second half. In the opening quarter of the game however Foundry really put the hosts to the sword, they opened the scoring with a fine header from their midfielder after a good run down the right wing. Foundry continued to pass the ball around with an air of confidence.
Then on the twenty five minute mark Downpatrick got back on level terms, Mark Holland played a terrific through ball for Ricky Kerr to latch onto. The midfielder surged into the box and just as he was about to pull the trigger the Foundry defender took him out and gave the referee no option but to point to the spot. Barry Treacy took the penalty and confidently dispatched it confidently to the back of the net.
Half Time: Downpatrick FC 1 v Albert Foundry 1
Downpatrick came out at the start of the second half and inside ten minutes blitzed Foundry with some spectacular play to score three goals and set up the victory. Aaron McGarry broke down the left wing and tried to cut the ball back which caused confusion in the visitors defence and the ball fell to Treacy. The Downpatrick winger played a smart side pass to striker Philip Traynor who hit a shot onto the far corner of the net for his first goal of the game.
Two minutes later Downpatrick scored a superb team goal which started in the right back position with captain Barry Fitzsimons, he passed the ball into midfield to Barry Holland, the midfielder played a perfect ball down the left hand side of the pitch for Christian Holland to run onto. The hosts left back crossed the ball first time low into the box and McGarry timed his run to get across the Foundry defender to divert the ball into the roof of the net.
Christian Holland won the ball just inside his own half before passing it forwards to Mark Holland, the prolific Downpatrick striker tried to play a one two with his partner Traynor but instead of providing the return pass he spun away from his marker and curled the ball into the top corner to make it 4 – 1. Mark Holland almost got his customary goal moments later when he hit a thunderbolt from thirty yards out which cannoned of the cross bar with the keeper beaten.
Philip Traynor capped a superb display when he completed his hat-trick before the end of the game. Barry Holland played the ball over the Foundry right back for Traynor to control and his a left footed shot past the keeper to make it 5 – 1. Next up for Downpatrick is a local derby against Drumaness Mills on Tuesday evening.
Downpatrick: 1) M McKenna 2) B Fitzsimnons 3) C Holland 4) N Taggart 5) M Carson 6) B Holland 7) B Treacy 8) R Kerr 9) P Traynor 10) M Holland 11) A McGarry 12) T Bell 14) T McIlhone 15) C McCarron