The under 15's are still in with a chance of winning the league, and Wednesday nights victory was an important one, click on the link to read more…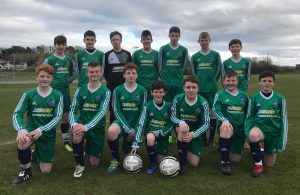 Wednesday 12th April – Downpatrick Youth Football League under 15's
Downpatrick FC 5 v Coney Island 2
The first evening match of the season for the boys and this outing needed to be the groundwork for the cup semi-final this Saturday. From the whistle, Downpatrick pressed forward but Coney Island was competent in defence and cleared any attacks.
The play was scrappy with both defences thumping the ball away with no considered plan or skill. Play in the middle of the park was proving challenging with both teams showing no formation and any attack by Downpatrick was cleared or broken down with no real effort. Jack Fitzsimons, busy as ever, ran down the left flank on 12 minutes, with Ethan Artt, Luke Shields and Andrew McClean poised for an accurate cross to clean up. The ball first fell to midfielder Ethan Breen who struck, the goal keeper saved but it rebounded off – Artt followed up from 20 yards but his strike again blocked.
The deadlock was broken on 26 minutes when Fitzsimons crossed for Shields to bag his first. Goal keeper Matthew Killen and his back line of Gregory Kelly, Colin Jones, Brian Kennedy and Liam Toner had put in a valiant, physical first half but had to remain careful of the opposition's ability to counter quickly. The Coney boys then attacked in numbers and just before the half time whistle scored to make it 1-1, on what was a frustrating first half.
Half Time: Downpatrick FC 1 – Coney Island 1
The half time talk proved vital to the boys and they took on every word. On 32 minutes the ball was crossed long to Shields who was brave, taking on two defenders, it was partially cleared and fell at the feet of Fitzsimons who struck to make it 2-1 Downpatrick.
Shortly after, Artt who was clocking up the miles down the right wing, passed with accuracy to Gardiner who had bolted up the midfield and picking up Artt's pass through middle, made it 3 – 1 on 44 minutes. Artt was there again with a textbook arcing cross to Shields who struck for his second on 50 minutes. The Coney Island boys hadn't given up and made a calculated attack on 55 minutes to make the scoreline Downpatrick 4 – Coney Island 2.
Andrew McClean now paired with substitute Rian McShane were both out running the Coney defence and with a superb clearing pass from Downpatrick's other substitute, Ruairi Murphy, McClean made it 5 for Downpatrick. McShane shone in the last 5 minutes with his maturing skill evident as he made attack and passing look second nature. A deserved win to keep the boys on top of the league in a match of most definitely, two halves!