Downpatrick come from behind to secure three points at home to a disjointed Lisburn Rangers team, click on the link to read more…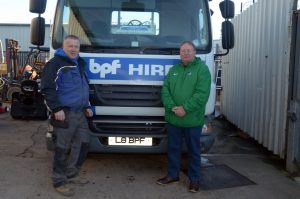 Saturday 26th November – NAFL Premier Division
Downpatrick FC 4 v Lisburn Rangers 1
Downpatrick were looking to get back to winning ways on Saturday when they welcomed Lisburn Rangers to Rosconnor. The home side settled quickly and began to pass the ball around with confidence but failed to create any chances in the opening ten minutes.
The Downpatrick defence were caught out with the first Lisburn attack, a through ball allowed the Lisburn striker to advance towards the Downpatrick box. Just as it appeared Neill Taggart was about to get in a timely tackle the striker hit an early toe poke high into the roof of the net to deceive Michael McKenna.
Downpatrick didn't let this set back affect them and within ten minutes they were back on level terms, great play down the left hand side of the pitch from Christian Holland. He played the ball into Philip Traynor, who passed it to midfielder Rick Kerr. Kerr took one touch before unleashing an unstoppable shot from 25 yards into the back of the net. A few minutes later Downpatrick got their noses in front, Barry Treacy whipped in a trademark corner and Peter Telford timed his run perfectly to volley the ball into the back of the net.
Half Time: Downpatrick FC 2 v Lisburn Rangers
In the second half Downpatrick were always in control with their defence of Neil Taggart, Mark Holland, Matthew Carson and goal keeper Michael McKenna being very comfortable in possession. As the game entered the seventh minute they scored their third goal, Treacy was again the architect with another perfect set piece. His free kick was met by the head of Tony McIlhone who powered the ball past the Lisburn keeper.
Ten minutes before the full time top scorer Stephen Galbraith got his name on the score sheet. Neil Taggart played a long diagonal ball from defence, Mark Holland got on the end of the ball and headed it past the visiting keeper only to see it rebound of the post. As all good strikers do Galbraith was in the right place to tap the ball into the empty net to score Downpatrick's fourth of the game.
A comfortable game for the home side in the end with all players getting plenty of game time, the only disappointment was the news on Sunday morning that the influential winger Barry Treacy had suffered a leg fracture ruling him out for the next few months. This means he will have to endure the heartache of missing out on the Border Cup Final but hopefully it won't be too long before he is back playing for Downpatrick.
Downpatrick: 1) M McKenna 2) N Taggart 3) M Holland 4) M Carson 5) C Holland 6) R Kerr 7) B Treacy 8) P Telford 9) E Boyle 10) P Traynor 11) T McIlhone 12) S Galbraith 14) J McLaughlin 15) A McGarry
Match Sponsor: BPF Hire, Annacloy