Downpatrick's first midweek fixture saw them play neighbours Drumaness Mills, click on the link to find out how the game went…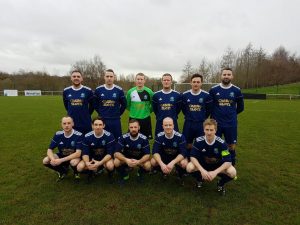 Tuesday 11th April – NAFL Premier Division
Downpatrick FC 2 v Drumaness Mills 1
Downpatrick welcomed neighbours Drumaness Mills to a sunny Rosconnor on Tuesday night in front of large crowd and both teams produced an entertaining game. Following on from their impressive performance on Saturday the hosts started the game in positive fashion and were scored a goal in the opening five minutes.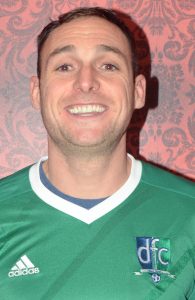 Tony McIlhone who was back in the starting line-up scored the opening goal after the powerful striker latched onto a ball over the top of the Drumaness defence from Neil Taggart. The explosive striker was quick out of the blocks to get to the ball before the visitors keeper, he took the ball round him and passed into the empty net.
Downpatrick were starting to create chances now and Aaron McGarry had a glorious opportunity to double their advantage after good work down the right wing from Terence Bell and Barry Treacy but saw his effort expertly saved by the Drumaness keeper. Mark Holland, Ricky Kerr and McIlhone all had chances but couldn't find the back of the net.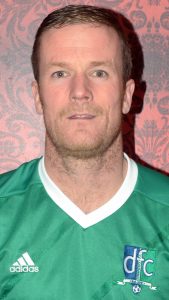 Just before the half hour Mark Holland scored Downpatrick's second goal of the game when he reacted quickest to another save by the Mills keeper after Barry Treacy hit a powerful shot to poke the ball into the net. Downpatrick continued to dominate until the half time whistle.
Half Time: Downpatrick FC 2 v Drumaness Mills 0
The second half continued with the hosts controlling the game and creating a number of opportunities which they weren't able to convert. Treacy whipped in a cross for McIlhone to head like a bullet only for the Drumaness keeper to pull of another world class save. Ricky Kerr also saw an effort shave the crossbar.
With the game entering the final fifteen minutes Drumaness pulled a goal back to set up a nervy ending for the home side. Drumaness counter attacked quickly and forced Downpatrick's Michael McKenna into producing a great save but the ball fell at the feet of the Drumaness striker who made no mistake. Another important victory for Downpatrick as they look to continue their winning run and put pressure on the other teams around them at the top of the table.
Downpatrick: 1) M McKenna 2) T Bell 3) C Holland 4) N Taggart 5) M Carson 6) A Baggley 7) B Treacy 8) R Kerr 9) T McIlhone 10) M Holland 11) A McGarry 12) B Fitzsimons 14) A McCoubrey 15) B Connolly