Downpatrick secured a quarter-final place in this years Clarence Cup against Albert Foundry, click on the link to read more….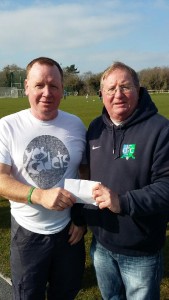 Saturday 26th March – NAFL Clarence Cup 4th Round
Shorts FC 1 v Downpatrick FC 3
Downpatrick continued their run in this seasons Clarence Cup when they overcame Shorts who play in Division 1C of the Amateur league. The visitors reward for Saturday's victory is another difficult away fixture to Premier league rivals Albert Foundry in the quarter-final.
Downpatrick started the game on the front foot, they enjoyed plenty of possession and created a few chances but were thwarted by the Shorts keeper. The deadlock was broken midway through the half with a beautiful strike. Centre back Niall Walsh dispossessed the Shorts striker before playing a forty-yard pass to Barry Treacy. The winger controlled the ball and then played a neat one two with Stephen Galbraith before hitting an unstoppable shot into the top corner.
Five minutes later Downpatrick doubled their lead, Aaron McGarry received the ball on the left wing, he beat two players before cutting inside but before he could unleash his shot he was fouled. Treacy took the free-kick and sent his shot over the wall and beyond the reach of the home sides keeper.
Half Time: Shorts FC 0 v Downpatrick FC 2
Any idea Shorts had of getting back into the game were all but over within the first fifteen minutes of the second half when Downpatrick scored their third of the game. Again McGarry was fouled in midfield, the quick thinking Jamie Sharvin spotted the early movement of Galbraith and delivered an inch perfect pass. Galbraith took one touch before hitting a half volley high into the net.
Shorts made the game a little bit more interesting with twenty minutes remaining, neat play in midfield before a defence splitting pass to their striker before a shot through the advancing Michael McKenna's legs into the net. This goal gave the home-side some confidence and they changed formation to put more pressure on the Downpatrick defence but Barry Fitzsimons, Blaine Connolly, Niall Walsh and Christian Holland were more than a match for what came their way.
Downpatrick also introduced Chris Magee for his first team debut with fifteen minutes and along with Conaill Kerr they didn't look out of place and these players will prove to be vital in the congested fixture schedule between now and the end of the season. Downpatrick return to league action this Thursday night when they travel to neighbours Kilmore Rec, kick off is 6.15pm.
Downpatrick: 1) M McKenna 2) B Fitzsimons 3) C Holland 4) N Walsh 5) B Connolly 6) A Baggley 7) B Treacy 8) J Sharvin 9) S Galbraith 10) R Kerr 11) A McGarry 12) E Boyle 14) C Magee 15) C Kerr
Match Sponsors: Paschal Fitzpatrick Painters, Downpatrick