Downpatrick under 15's progessed to the semi-final of the cup, click on the link below to find out how they done it…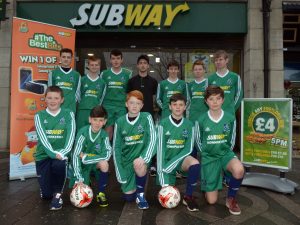 Saturday 11th February – Downpatrick Youth League – under 15's Cup
Downpatrick FC 7 v Newcastle FC 4
A freezing Saturday morning greeted the boys at Dunleath, for this anticipated cup match and the lads were up for this. Newcastle were not to be underestimated, their key strengths lying in the breaking ball. From the whistle, a series of tit for tat plays were nervy and cleared by each team with no apparent strategy other than to simply get the ball away!
Downpatrick began to press and after 13 minutes, Jack Fitzsimmons finished clinically with their first meaningful attack. Immediately after, he was denied from a free kick, the off-side trap proving effective by a disciplined Newcastle back line. Newcastle countered on 25 minutes and lack of communication by Downpatrick led to a free kick which the visitors duly finished, one all.
Downpatrick again attacked in numbers with the midfield of Luke Shields, Colin Jones, Conail Gardner and Fitzsimons pressing and urging strikers Andrew McClean and Ethan Artt forward. On 28 minutes, sustained pressure led to a penalty to Downpatrick which Luke Shields confidently planted home – 2-1 to Downpatrick. Just before the break, Newcastle again broke and made it 2-2 at the half time whistle.
Half Time: Downpatrick FC 2- Newcastle FC 2
An inspired half-time talk brought the boys back out with a determination to win the cup tie. McClean was fired up and determined to get on the score sheet, some neat midfield passing found the ball being played into the striker's feet and he made a solo run to bang in Downpatricks 3rd on 40 minutes. Immediately after, Newcastle countered, leading to a penalty which was not converted, the ball struck wide.
This was the spark that ignited some skilled Downpatrick moves. Artt broke from the half way line, cleared his defender and crossed square to Shields who knocked in his second and Downpatrick's 4th on 43 minutes. Newcastle countered yet again and slotted in their 3rd on 52minutes. Again a clearance by Downpatrick was passed to McClean, who bagged his 2nd on 57minutes.
Personnel changes followed, with Ruairi Murphy, Rian McShane and Naoise O'Hagan brought in to increase the impetus and push for a convincing victory. Shortly after, committed attacking play by Downpatrick pushed defender and birthday boy Liam Toner into the Newcastle defence and his early present was a neat goal which he executed clinically. The match wasn't finished and in the dying minutes Newcastle got another one back but Shields was there once again and buried it with his 3rd goal and deserved hat trick on 66 minutes.