The under 16's kick their league campaign of with a victory, click on the link below to find out how…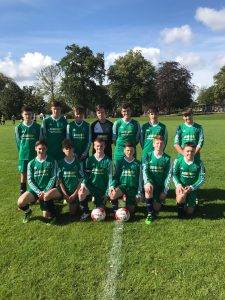 Saturday 2nd September – LYFL under 16's
Downpatrick FC 4 v North End 0
A gloriously sunny morning greeted the boys at Wallace Park, for their eagerly anticipated season opener against North End. A number of new faces Connor Rogan, Peter Kearney, Matthew Murray and Luke O'Rourke joined the ranks of the Downpatrick squad and the boys were determined to send a message that they are contenders.
From the whistle, Downpatrick attacked in strength but were initially nervous and their play uncontrolled. As time went on, attacks started to build with the midfield of Rogan, Ethan Breen and Kearney starting to feed the ball to Andrew McClean, who in turn, linked up with the front 2 strikers of Luke Shields and Ethan Artt.
After much persistence, the deadlock was broken on 10 minutes by Shields who took on the North End defence single handily to knock in Downpatrick's first. Shortly after, Rogan picking up the ball on the left flank, his cross was met by Shields, only for him to narrowly knock it over on the volley. It was evident Downpatrick wanted more and it would be only a matter of time for the rewards to start coming in.
The Downpatrick defence led by Conail Gardner (Capt.), Brian Kennedy, Liam Toner and Colin Jones were putting up a brick wall in front of the North End striking line and any attacks petered out or were knocked over. Mathhew KIllen in goal was showing maturity and decisiveness in his command of the box.
Artt, Shields and McClean were creating chances all over the place. Artt, attacking on the left was showing determination and persistence with tackles and follow ups, causing the North End defence all sorts of problems. Shortly before the break, North End couldn't control a strike from McClean and Shields was there to bag his 2nd.
Half Time: Downpatrick FC 2 v North End 0
A number of substitutions brought in fresh legs on what was turning out to be a very warm morning and the impact was felt immediately. Kearney, making his presence felt in the midfield throughout shot on 45minutes but it drifted over. Luke O'Rourke and Matthew Murray equally, were making controlled decisions and the whole team was making very few errors. North End still pressed and gaps appeared in the midfield, testing the defence and providing some jittery moments. North End despite their best efforts couldn't find the net.
Jack Fitzsimons was brought on shortly after the restart to bolster Artt and Shields and his sheer determination led to Downpatrick's 3rd on 53 minutes with a controlled strike. Rogan once again linked up with Shields who cut square but was denied at the final point. Artt had been beavering away all day and his strike on 50 minutes was cleared off the line. Kearney having provided a commanding debut and was rewarded on 60 minutes with a solo effort which showed skill and maturity, slotting in Downpatrick's 4th.
A measured win for the Downpatrick lads on this season opener, confidence abounded with errors apparent for training ground work. Tougher tests will follow and the boys need to up their discipline and work rate to meet more determined opponents.