The under 16's produced an impressive performance to beat a strong Hillsborough team, click on the link to read more…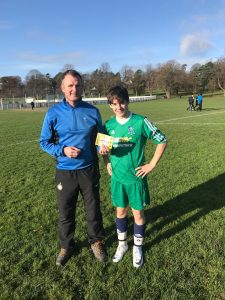 Saturday 4th November – LYFL under 16's
Downpatrick FC 2 v Hillsborough Boys 1
A scrappy first half for both teams with the Hillsborough lads showing much more skill and determination. Downpatrick were still in bed and needed to up the ante or they would get punished. Apart from a Jack Fitzsimmons free kick, there were few goal opportunities and it was Hillsborough who had no less than 7 attempts on target but couldn't find the back of the net.
Half Time Downpatrick FC 0 v Hillsborough Boys 0
A stern talking to at half time seemed to light a fire in the belly of the Downpatrick lads, changes in personnel brought on striker Andrew McClean who was there to follow up on an accurate free kick from Fitzsimmons on 38 minutes to make it 1-0. Downpatrick attacked in numbers, pushing forward, looking to stretch their lead, attacking midfielder Ethan Artt, who had a quiet first half, received the ball in a crowded box and from just inside, planted Downpatrick's second in the back of the net on 49 minutes. Downpatrick additional strikes came from Luke Shields and McClean but they couldn't find the net. Hillsborough got one back on 62 minutes to finish an unconvincing win for the boys.