This weeks club notes includes details of the upcoming fixtures for the teams, information on training and our latest fundraiser, click on the link to read more…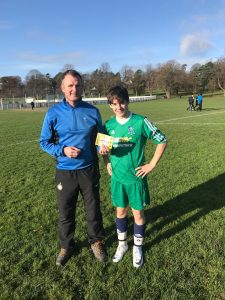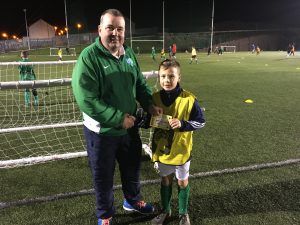 Club Notes – Week Beginning 06/11/17
•
The 100 Club Draw for October
took place last Saturday in Murphy's Bar & Restaurant
, the prize winners were: 1
st
Prize – £250.00 No. 38 Dolores McMahon, 2
nd
Prize – £150.00 No. 40 Ciaran McMenamin & 3
rd
Prize – £100.00 No. 39 Eugene Milligan. We would like to thank everyone who continues to support this draw, Novembers draw will be held on Saturday 25
th
November after the senior team's matches.
•
Congratulations to our coaches who have recently completed their first aid course, Paul M
oore, Mark McCann, Ned Peacock,
Kevin Gardiner, Mark Murphy, Marty
McGarry
, Philip
McGarry
& Stephen Sloan
.
•
The first team
welcome 1
st
Bangor to Rosconnor
on Saturday afternoon in the league, this match kicks off at 2.00pm
.
Please note that the Border Cup Quarter-Final against Killyleagh YC has been moved back to Thursday 16
th
November, this match is still at Seaview, Crusaders and kicks off at 8.00pm.
•
The seconds
welcome
d
Tollymore United to Dunleath on Saturday
with the league leaders winning 4 – 2, Downpatrick's goal scorers were
Conaill Kerr and an Own Goal
.
•
The under 18's are
in league action thi
s Saturda
y
, they play Rosemount Rec at 10.45am at Ashfield 3G Pitch
.
•
The under 16's play
Ardstraw Youth in th
e first round of the NIBFA Cup,
this match kicks off at 11.00am at the Council Pitch in Killyleagh.
Downpatrick'
s man of the match
last Saturday was
Andrew McClean
who receives a 'Golden Ticket' from sponsors Downpatrick Subway.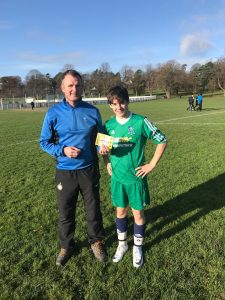 •
The under 14's play in
the league
on Saturday m
orning,
they play Banbridge Town
in
Havelock Park
at 11.15
am.
The 14's played the same team in the
Shield Quarter-Final last week
and were beat 5 – 2 AET, Banbridge raced into a two nil lead but credit to the Downpatrick players they battled back with goals from
meant the game went into extra time. Shortly into extra time Banbridge scored to go back in front and with time running out and Downpatrick pushing for an equaliser Banbridge scored two late goals to seal their passage into the semi-final.
•
The under 13's play
Kilmore Rec this weekend with the kick off time and venue to be decided
.
Its been a tough season so far with a few heavy defeats
for
this young team
but they deserve credit for still turning up and competing
.
Playing against a
good Coney Island
team
the
Downpatrick
boy
s frustrated them, closing the d
own, not le
tting them shoot, good tackling
and a few great saves from our
stand in keeper Conall Hanna
.
Unfortunatly after nearly 20 min
utes C
o
ney Island scored 3 quick goals, o
ur 2 new signings Sean Mageean and Padraig Mason did really
well linking up regularly and attacking the C
oney Island team. With Sean Murphy working hard in midfield setting up chances for Philip Mccullough and Adam Shannon. Just before
half time Coney Island scored again.
After the half time team talk the boys came out and provided there best preformance so far.
They continually showed courage and confidence in wanting the ball and trying to play the right
way. With doing this you will m
ake mistakes but there ability to
learn from this shone through.
Coney Island went on t
o scored 3 more one of which was
a penalty.
Stand out preformances were
Ben Cromie always prepared to make tackles c
hase balls and help team mates and
Max Crane playing in unfamiliar right back position always willing
to recieve ball from his goal k
eeper and play out from back.
•
The 2006's 9-a-side team
play
Portaferry and Ballynahinch Olympic
on Saturday morning in Dunleath, t
he first match kicks off at 09.3
0am
and the second match is at 10.0
0am
.
On a cold day and heavy pitch last Saturday all the players worked very hard.. In the first match against Rossglass goals from Stefan Parayag, a Jake Harding goal from distance, a great individual goal from Conor Perry and an Odhran Higgins header ensured the boys were happy. .This was followed by an exciting match against Kilmore Rec, despite creating lots chances the team only had a Conor Perry strike and two outstanding saves from Ryan Carson for their efforts. Outstanding performances from Sean Conway,Jake Harding, Conor Perry, Stefan Parayag and Ryan Carson. The Subway Golden Ticket Man of the Match was Conor Perry.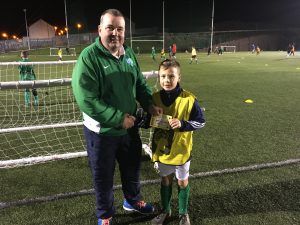 •
The 2007's 9-a-side team fixture hasn't been announced at the time of writing.
•
The small sided games development centre
is
up in the Red High on a Sunday Morning, this is for our under 8's and under 10's. The coaches will be in touch about who is playing and at what hour.
•
Training for mini soccer has moved
up to the 3G Pitch at the Red High, the training times for the diffe
rent age groups are as follows:
2010, 2009 & 2008 are training from 6.00pm – 7.00pm and those born in 2006 & 2007 are training from 7.00pm – 8.00pm, they need to wear shin guards and football boots, bring a bottle of water and dress according to the weather conditions. Parents are asked to complete the registration forms as soon as possible and return them to Paul Moore or Tony McShane.
•
Training for children born in
2013,
2012 and 2011 will begin on Monday 9
th
October in the Red High from 6.00pm – 7.00pm. The children born in 2011 will be outside this year and those born in 2012 will be indoors. Any questions please contact our Youth Development Officer Paul Moore on 07549 661772.