Here's hoping the weather is kinder to us all this weekend and we see some matches played, click on the link below to find out the different fixtures for the teams this weekend…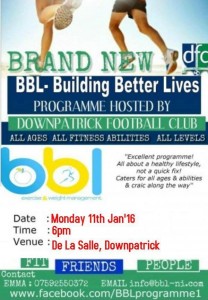 Club Notes – Week Beginning 11/01/16
The playing side of the football club has been severely affected by the weather since the new year (like all other clubs) but we would like to encourage all players of the club to continue turning up for training and giving 100% effort and when the matches return they will be ready for action..
Downpatrick next match is on Saturday 16th January when they travel to play Dundonald in the 1st round of the Clarence Cup, this match kicks off at 30pm and is at the Billy Neil playing fields. If any business is interested in sponsoring a match please contact Tony McShane 07716 583990.
This next match for the seconds is also on Saturday 16th January, they play Castlewellan 2nds in the first round of the Harry Clarke cup, kick off is at 1.30pm at the Bann Road in Castlewellan.
The Lisburn League will also be hoping to return to action this Saturday, the under 15's play Hillsborough Boys at Wallace Park, this match kicks of at 30am. The under 14's play Lisburn Distillery at Ballymacoss, with a 9.30am kick off.
After nearly six weeks without a match the under 13's will be hoping the weather is kind this Sunday morning when they play Tollymore in Dunleath, kick off is at 30am.
The 9-a-side development squad return to action this Saturday, they play Portaferry at 9.30am and Rossglass County at 9.55am in Dunleath.
Training on a Monday night for our mini soccer will start on Monday 4th January from 00pm – 7.00pmin the Red High, this training is aimed for 4 year olds to 10 year olds. All old and new players are welcome, if you would like more information please contact Paul Moore on 07549 661772. (Please ensure your child is dressed for the weather, it can get very cold).