A superb second half performance saw Downpatrick come from a goal down to emphatically win and progress to the second round of the Clarence Cup, click on the link below to read more…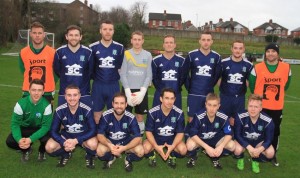 Saturday 16th January – NAFL Clarence Cup 1st Round
Dundonald FC 3 v Downpatrick FC 8
Downpatrick returned to action after the Christmas holidays with a tricky away fixture to Border Cup finalists Dundonald in the first round of the Clarence Cup. Due to the weather Downpatrick hadn't played a competitive game in four weeks and found it hard to get going in the first twenty minutes.
Downpatrick's Ian Kearney who was deputising for Michael McKenna had to pick the ball out of the net twice in the opening exchanges, he attempted to release the ball to right back Barry Fitzsimons but the Dundonald striker intercepted the ball and rounded Kearney and slide the ball into the empty net. Then two minutes later Dundonald doubled their lead when their striker dispossessed defender Niall Walsh on the edge of the box and shoot past Ian Kearney.
With thirty minutes of the game gone, the match took a crazy turn with the referee dishing out three red cards, two for Dundonald and a second yellow for Downpatrick's Andy Baggley. As the game calmed down Downpatrick pulled a goal back, striker Eoin Boyle ran with the ball down the wing and played a perfect pass for Peter Telford who shot went back across the Dundonald keeper into the net.
Half Time: Dundonald FC 2 v Downpatrick FC 1
Downpatrick were forced into making a change at half time with Jamie Sharvin making his first start for Downpatrick replacing Niall Walsh. Within five minutes of the restart Downpatrick were on level terms when Stephen Galbraith scored his first of the game after a through ball from Ricky Kerr. Galbraith turned provider for Downpatrick's third after debutant Philip Traynor played a one two with him and Traynor gave the Dundonald keeper no chance.
Downpatrick doubled their advantage when Sharvin played in Galbraith who slid the ball under the advancing Dundonald keeper with a super finish. Traynor scored his second of the game minutes later, Aaron McGarry put the striker through on goal but he saw his first shot saved before tucking the rebound into the net to make it 5 – 2 to Downpatrick.
Ruari Fitzpatrick exchanged passes with Barry Treacy before sending over a cross for Stephen Galbraith, giving the striker the simplest of tasks of tapping the ball into the net to complete his hat-trick. Treacy crossed the ball for Downpatrick's seventh goal of the game which saw McGarry out jump the Dundonald keeper to head the ball into the bottom corner.
With Downpatrick continuing to push forward Dundonald had a rare counter attack and scored a consolation goal. Stephen Galbraith finished the scoring after Barry Treacy got to the by-line and pulled the ball back for him to place the ball into the corner of the net.
Downpatrick: 1) I Kearney 2) B Fitzsimons 3) A McGarry 4) N Walsh 5) M Holland 6) A Baggley 7) R Fitzpatrick 8) R Kerr 9) S Galbraith 10) P Telford 11) S Galbraith 12) B Treacy 14) J Sharvin 15) P Traynor