This weeks club notes include information on our upcoming fundraiser, ladies fixture and details of the mini soccer training, click on the link below to read more…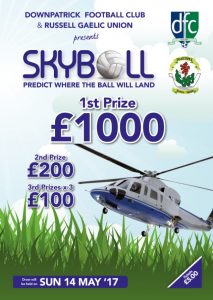 Club Notes – Week Beginning 08-05-17
This Sunday 14th May sees our joint fundraiser with Downpatrick RGU known as 'SKYBALL', both clubs are selling tickets for £5.00 with the chance to win a first prize of £1000.00, second prize of £200.00 and three further prizes of £100.00 each. The fundraiser involves people purchasing a ticket, each ticket will be allocated a square on the top grass pitch at the RGU, five balls will be dropped from a helicopter over the pitch and each square that a ball rests in will be prize winners starting with the first prize. To purchase a ticket contact a member of the committee or check out the online option on our Facebook and Twitter accounts.
With the season now over we would like to thank all our managers/coaches and players, from under 13's up to our senior teams for all their hard work and dedication, the football club really appreciates their efforts. We would also like to thank our sponsors, Murphy's Bar & Restaurant, Carousel Casino Slots, Eclipse Cinemas, Subway, JP Corry's and McDonalds Downpatrick for their continued support during the year, without their help and generosity we wouldn't be able to provide teams for the various age groups. Details of this years prize giving will be available soon.
The ladies suffered defeat in their first league game last Wednesday night in Dunleath when they were beat by Lurgan Ladies. They will hope to bounce back this week when they travel to play Ambassadors Ladies on Thursday night, this match kicks off at 7.30pm.
The 9-a-side development team have entered the Annalong Tournament later in May and continue to train on Monday nights from 6.30pm – 7.30pm.
Mini Soccer continues on Sunday morning for the next few weeks, coaches will be in touch with the information later in the week.
Our Mini Soccer training finishes on Monday 15th May in St Dillon's Pitch from 6.30pm – 7.30pm
The under 6's also finishes on Monday 15th May in the De La Salle Sports Hall at 6.00pm.