Details of the remaining cup finals and fixtures for this week are included in this weeks club notes, click on the link to read more…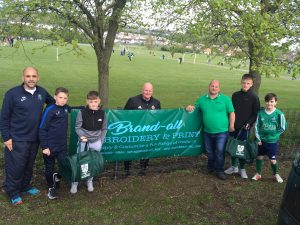 Club Notes – Week Beginning 29/04/19
More Cup finals this week for the football club, first up is our u15's on Wednesday night who play Coney Island in the Cup. This match kicks off at 7.45pm and is in Dunleath Park. Then on Saturday it is the turn of the Lisburn League Finals, the u13's are first to play in the League Two Final against Banbridge Town at the Lisburn Leisureplex. This match kicks off at 9.30am. Then at 12pm it's the turn of our under 11's who play in the Division 2 Final against Lisburn Distillery, this match is on the 3G at the Leisureplex. Everyone at the football club would like would like to wish all the players and management Good Luck, all support is welcome.
It wasn't to be for the under 17's on Saturday in their cup final, the players and management can be proud of their performance and can count themselves unlucky not to get something out of the game. Keep the heads-up lads and use the feelings at full time to motivate yourselves next season to come back stronger.
We would like to thank Bobby Shaw from 'Brand-all' who kindly sponsored a set of kit bags for the under 13's in their final this Saturday. Good Luck in the new venture Bobby from everyone at Downpatrick FC.
The 100 Club Draw for April will now be held on Saturday 4th May in Murphy's Bar after the first team game, all those who have a number in the draw need to pay their money to a committee member or leave it in Murphy's Stores by 12pm on Saturday. If you haven't paid you're not entered in the draw.
Downpatrick ladies league campaign kicked off last Wednesday night, the ladies travelled to play Lisburn Rangers but suffered a 5 nil defeat. This Wednesday they welcome Lurgan Town to Dunleath, this match kicks off at 7.30pm.
The senior team have three fixtures remaining, starting this Thursday night against Crumlin Star, this game kicks off at 6.45pm. Then on Saturday they play Rathfriland Rangers at home, this match kicks off at 2.00pm. The last game of the season is on Tuesday 7th May when they welcome Albert Foundry to Rosconnor, this match kicks off at 6.45pm.
Please note there will be no training on Monday 6th May, the Mini Soccer training will return on Monday 13th May from 6.30pm – 7.30pm at the St Dillon's Avenue pitch. This training is for children born in the following years 2009, 2010 & 2011. Players are asked to dress for the weather, wear football boots and shin guards. All old and new players are welcome. For more information contact Paul Moore on 07549 661772.
Please note there will be no training on Monday 6th May, the training for our 2012 and 2013 age groups will return on Monday 29th April from 6.30pm – 7.30pm at the St Dillon's Avenue pitch, please note that children will be outdoors and it's important they are dressed for the weather and are wearing shin guards and football boots.