Click on the link below to find out whats been happening and what's planned in the future including a new Chairman, our annual club Golf Day, details of our soccer funweek…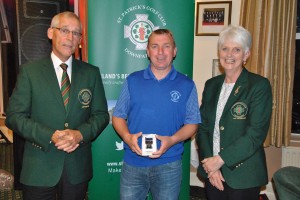 Club Notes – Week 5 Beginning 29/06/15
Last week the club held their AGM in Murphy's Bar, we are please to welcome Michael Bohill as the new Chairman. Michael has been a highly respected member of the club for the last number of years; he will be supported by Thomas Leckey as vice-chairman. Eugene Milligan and Tony McShane continue in their office roles as secretary and treasurer respectively, they will be assisted by Paddy Trueman and Barry Fitzsimons who took up the positions of vice secretary and vice treasurer.
In association with Knockevin Special School the club held their annual Golf Day at St Patrick's Golf Club, Downpatrick on Friday past. After a damp start the day turned out to be a huge success with Stephen Galbraith senior winning the GUI – Members competition with an impressive 44 points. In second place was Ivan Campbell with 41 points, third place was Gabriel Carlin who also had 41 points and fourth place went to Jimmy Matthews with 40 points. The winner of the Non – GUI Members prize was Ciaran Sloan who also had a Hole-in-One at the 11th hole (unfortunately not the hole where the prize for the car was on) and the runner up was Tosh McCrissican with 35 points. Closest to the hole prize winners were 4th Hole – Eoin Boyle, 8th Hole – Daniel Taggart, 11th – Ciaran Sloan, 15th Hole – Joe Deegans & 18th Hole – Ryan Taggart. The winners of the Ballot Tickets were 1st Prize – Television Caroline McAteer, 2nd Prize – Ipad Angie Thompson, 3rd Prize – Four Ball for St Patrick's Golf Club – Martin Rourke, 4th Prize – Four Ball for Ardglass Golf Club – Ryan Taggart, 5th Prize – Four Ball Ardglass – Veronica Davey, 6th Prize – Meal Voucher for Murphy's Bar & Restaurant, Downpatrick & 7th Prize – Meal Voucher for St Patrick's Golf Club, Downpatrick – Brady Donaghy.All organisers would like to Thank main sponsors Murphy's Bar & Restaurant for sponsoring the prizes, Ciaran Russell Auto Sales for sponsoring the Hole-in-One competition, St Patrick's Golf Club, Downpatrick especially Club Captains Brendan Mullen and Elizabeth Mageean for hosting the event and attending the prize giving ceremony, to all our flag and tee box sponsors, MB McGrady & Co Accountants, Turley's Bar, Connolly's Spar, Arkle Bar, Down Hire Centre, Cosy Roof, M&M Steel Fabrications, Anzac Wines & Spirits, O'Reilly's Sweets, The Golden Chip, B&C McKeownLtd, TL Photography/Resolve Marine, Savages Bar, MG Construction, Plus 2 Print, Docs Fish & Chip Shop, Charlie Walsh's Shop, Central Bar, Downpatrick, DSC Cars, Lignam Interiors, Kim-On-In, Martindales, Jimmy Matthews, Tom Lowry, Donald Campbell, Ulster Property Sales, Ballynahinch, Swift Fuels, Autozone Car Parts Ltd, Charles Rourke & Sons Funeral Directors, Oliver Laird, Logue Casings, Home Care Systems, JR Discount Stores, Castlewellan and John Cusack. We would also like to thank all the golfers who took part, especially those that braved the rainy conditions early in the morning.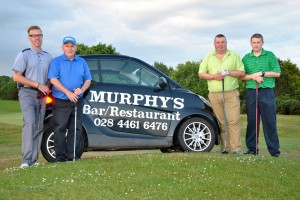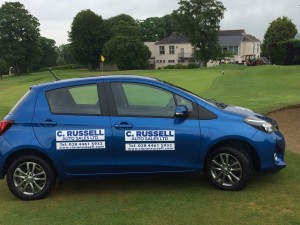 Everyone at Downpatrick FC would like to thank Touser Holland for his hard work and support he gave to the seconds team last season, the club have decided to go in a different direction this year now that the Seconds have been officially promoted to the Premier Division of Newcastle League and therefore have relieved Touser of his managerial duties, We would like to wish Touser all the best for the future and we are sure he will be back in local football in the not to distant future.
Anyone who is interested in applying for the Seconds team Managers position can do so by contacting Tony McShane on 07716853990 by Monday 6th July.
The club have launched the details of their Summer Soccer Funweek, it will be held from Monday 27th July to Friday 31st July from 6.30pm – 8.30pm. Any children aged from 4 year olds to 14 year olds can attend, the price for the week is £10.00 for one child, £15.00 for two children from the same family and £20.00 for three children or more from the same family. Registrations will be made on the Monday night.
The ladies are back in league action tonight after a two week break, they make the long journey tonight to Ballinamallard to play Fermanagh Mallards, kick off is 7.30pm. Good Luck Ladies.
Preseason starts this Tuesday 6th July in Dunleath for all players, all old and new players are welcome to attend. Players are asked to be down for 6.00pm sharp and please bring football boots, trainers and a water bottle.