Downpatrick Football Club presents 'A CLASS ACT' Talent Show, we are looking different types of acts to enter out Talent Show for the chance to win £500.00, if you think you have a special talent or know someone who does click on the link below to find out more information…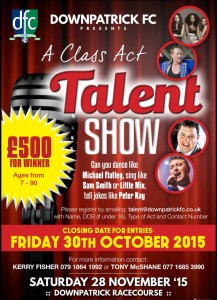 The football club are presenting 'A CLASS ACT' Talent Show. We are looking for people to send in entries into the following e-mail:
We require:
1) Name
2) Date of Birth (if under 16)
3) Type of Act
4) Contact Number
The Talent Show is open to people aged from 7 up to 90 and the winner will receive £500.00!! Once you send in your entry form the club will be in contact with more information. PLEASE NOTE the closing date for entries is Friday 30th October.
If you would like to find out more information please contact Kerry Fisher 07918 641992 or Tony McShane 07716 853990