Downpatrick produce a brilliant performance to earn three points away to Crumlin Star, to find out how click on the link to read more…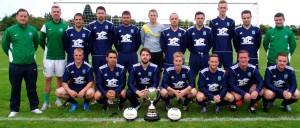 Tuesday 3rd May – NAFL Premier Division
Crumlin Star 0 v Downpatrick FC 4
Downpatrick made the long trip to Larne on Tuesday night and put in one of their performances of the season. The trip wasn't helped with the traffic congestion in Belfast resulting in half of the squad arriving late and causing the kick off to be delayed by half an hour. The home side were quick out of the blocks and could have been 1 up inside the opening minutes but for Michael McKenna in the Downpatrick nets. The Crumlin Star striker was one on one with McKenna who managed to get his hand on the strikers lob to save it.
Downpatrick opened the scoring after five minutes when the visitors broke quickly through Andy Baggley, the midfielder passed the ball down the left wing to striker Philip Traynor. Traynor took on two Crumlin Star players before cutting the ball back into the box for Stephen Galbraith to slot the ball home from fourteen yards out. Midway through the half Downpatrick were dealt a blow when Baggley was forced off with an injury being replaced by Adrian McCoubrey.
Half Time: Crumlin Star 0 v Downpatrick FC 1
Two minutes into the second half Downpatrick had doubled their advantage, Matthew Carson intercepted the ball in defence and passed the ball to defensive partner Mark Holland. Holland played the ball up to Traynor who flicked the ball on for Galbraith who beat the offside trap. Bearing down one on one with the Crumlin Star keeper Galbraith rounded him and tapped the ball into the empty net.
Just before the hour mark Downpatrick scored their third goal of the game, neat play between Jamie Sharvin and Adrian McCoubrey in midfield allowed Sharvin to pass the ball to Traynor. Jamie Sharvin continued his run and was found by Traynor before unleashing an unstoppable volley over the keepers head from 25 yards out into the roof of the net.
Downpatrick were enjoy long periods of possession and with fifteen minutes remaining they scored their fourth goal of the game. Aaron McGarry played the ball down the left hand side of the pitch to Philip Traynor, the striker passed to Stephen Galbraith. Spotting the run of Traynor, Galbraith sent over the perfect cross for his strike partner to run onto and slide the ball under the home side keeper from six yards.
A good win for Downpatrick which pleased their management especially with the problems the players had before kick off. Joe McMahon commented on how well they played, ''that's one of the best performances I've seen from us in a long time, there was one period of possession which involved every player on the pitch and nineteen or twenty passes all over the pitch. It would have been a wonder goal if Sharvin's shot had of found the back of the net''.
Downpatrick: 1) M McKenna 2) B Fitzsimons 3) C Holland 4) M Carson 5) M Holland 6) A Baggley 7) T Bell 8) J Sharvin 9) S Galbraith 10) P Traynor 11) A McGarry 12) A McCoubrey 14) N Walsh 15) S McMahon