Downpatrick secured another three points in their pursuit to climb up the table on Tuesday night, click on the link to find out how…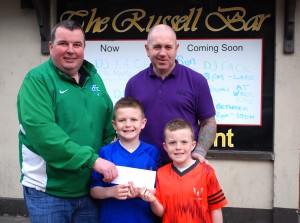 Tuesday 26th April – NAFL Premier Division
Downpatrick FC 2 v Malachians FC 0
Downpatrick entertained Malachians at Rosconnor on a cold Tuesday night, with so many fixtures coming up the Downpatrick management reshuffled their players and took the opportunity to rest a few. These changes led to Downpatrick being a bit disjointed and slow at the beginning of the game but this all changed five minutes before half time.
Downpatrick's Philip Traynor took the ball down the right hand side of the pitch before cutting across the box. The striker tried to get his shot away but before he could the Malachians defender tried to clear the ball but only managed kick it against Traynor and watch it sail over the keepers head into the net. Downpatrick were reduced to ten men two minutes later when left back Christian Holland was giving his marching orders for reacting to an unprovoked punch as the play was up the other end of the pitch.
Half Time: Downpatrick FC 1 v Malachians FC 0
Downpatrick regrouped at half time and came out in the second half and controlled the play with the defence of Barry Fitzsimons, Matthew Carson, Blaine Connolly and Aaron McGarry dealing with everything the Malachians team through at them, which meant Michael McKenna had one of his quieter games. Downpatricks midfield of Ricky Kerr, Jamie Sharvin, Andy Baggley and Stephen Galbraith were full of running, so much so you wouldn't have noticed they only had ten men.
Star performer Philip Traynor didn't let the Malachians defence settle at all as he put pressure on them every time they got the ball. Traynor doubled his and Downpatrick's advantage twenty minutes into the half when he headed home at the back post from an inch perfect Galbraith cross out on the right side. Downpatrick were in complete control and were able to take players off and give the substitutes of Peter Telford, Barry Treacy and Adrian McCoubrey some game time in preparation for another important game on Thursday night against Kilmore Rec.
Downpatrick: 1) M McKenna 2) B Fitzsimmons 3) C Holland 4) M Carson 5) B Connolly 6) A Baggley 7) A McGarry 8) J Sharvin 9) R Kerr 10) P Traynor 11) S Galbraith 12) P Telford 14) A McCoubrey 15) B Treacy
Match Sponsor: The Russell Bar, Downpatrick