A 90th minute goal denies Downpatrick all three points, click on the link below to read more…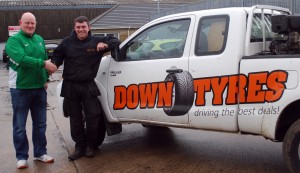 Saturday 2nd April – NAFL Premier Division
Downpatrick FC 3 v Shankill United 3
Downpatrick welcomed league leaders Shankill United to Rosconnor on Saturday in what turned out to be a pulsating match. This was Downpatrick's first league fixture at home since September.
Both teams tried to play some football in the opening exchanges but it was clear that the pitch wasn't suited especially with the rain pouring down. As the game approached the half hour mark Downpatrick opened the scoring. Captain Barry Fitzsimons played a ball down the right wing which was flicked on by Peter Telford to striker Stephen Galbraith. Galbraith controlled the ball at the corner of the 18 yard box and laid it of for partner Philip Traynor whose first time left footed shot sailed into the top corner.
Downpatrick doubled their advantage two minutes later when the ball was played out to the right hand side of the pitch to Galbraith, he took on a couple of Shankill defenders as he ran across the pitch on the edge of the box. He sent a delightful chip over the Shankill right back for winger Aaron McGarry to run on to and control the ball before he hit a low shot across the keeper into the bottom corner of the net.
Shankill got back into the game five minutes later, they had a throw in which was flicked on for their striker. The ball evaded the Downpatrick defence and the striker beat Downpatrick's Michael McKenna at his near post. Two minutes before half time the visitors were back on level terms, the Downpatrick defence failed to clear the ball, the Shankill player reacted quickest and lobbed McKenna to make to two all.
Half Time: Downpatrick FC 2 v Shankill United 2
The second half was pretty uneventful until it entered the final ten minutes, Downpatrick took the lead again with Traynor grabbing his second of the game. Peter Telford collected the ball on the right wing and delivered the perfect cross for Traynor to attack and head into the back of the net before the Shankill keeper could react.
Controversy surrounded the visitor's equaliser with seconds remaining. As expected the league leaders piled on the pressure and Downparick appeared to have dealt with everything thrown at them but then as they cleared the ball and pushed out the ball was played over the top to the Shankill forward who was in an offside position, he rolled the ball across the pitch for his strike partner to score. Much to the Downpatrick players shock the referee pointed to the centre spot and waved away their protests.
Downpatrick: 1) M McKenna 2) B Fitzsimons 3) C Holland 4) N Walsh 5) P Telford 6) J Sharvin 7) B Treacy 8) A Baggley 9) S Galbraith 10) P Traynor 11) A McGarry 12) R Kerr 14) A McCoubrey 15) I Kearney
Match Sponsor: Down Tyres, Downpatrick.